Sometimes you design a logo (or other piece) and get everything right — right lines, shapes, colors, typefaces. It's well composed, flawlessly rendered, the parts work together, it has verve and presence. Case in point: British Airways. (I realize you're not designing airline livery, but the principles are universal.)
The focal point is the huge Union Jack, tightly cropped, billowing majestically from the tail, accented by a blue underbelly, blue engine nacelles, and a flowing ribbon behind the cockpit. The effect is understated, powerful, fluid, ideally suited for a jet aircraft.
But what happens when you get it right, and yet, maybe it's not right?
Last week I came across crankyflier.com and this photo of a new British Airways Boeing 757 in its retro livery from the 1980s . . .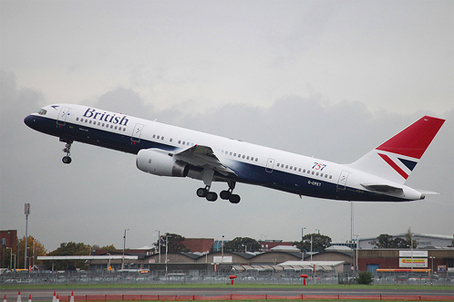 I love this. Different vibe, equally powerful. Same colors, same general scheme — the Union Jack (more abstract) on the tail, blue underbelly, name near the front. But where the modern look flows, the retro look stands — straight lines, crisp edges, sharply tailored, prim, proper, regal, uniquely British.
No other country could pull this off.
And that's what you want in a brand — the thing that's uniquely you.
Let other airlines flow. Flow is an obvious choice, natural for aircraft, and it can be beautiful, as British Airways' is. The downside is the risk of looking generic, which won't (even can't) be remembered. Besides, real things are not generic. Everything has a unique story.
Said Cranky about British Airways' retro look, "I mean, seriously. Why would they ever change these colors [design scheme]? . . . BA got away from these and the Landor colors because it seemed too stuffy and British in their eyes. But that's why we love BA (and Britain in general), right? It's called character, and the old colors conveyed that well. While the newest colors have returned to flying the British flag, it no longer has that same regal look."
This is not a small thing. Just because we design something "professionally," and just because it's "working," doesn't mean we've found the right look, and if the customer remains uneasy, we need to dig deeper. The difference between these two schemes would have been extremely difficult to articulate beforehand and extremely difficult to design from a checklist of goals.
Which is better? Here are two excellent designs living in that twilight zone that eludes both science and words. Our name for it is art. Give yourself and your client room for it.
—————

Logos and branding are hot issues right now. From the list on the left are our Design Talk posts that deal with logos . . .
Your logo as a design element
Is this design?
Ordinary typeface, smart logo
Don't festoon your brand!
It's complicated
Lookalike letters make a daring logo
The most important rule of logo design
Does this need a logo?
How simple is too simple?
The best colors for a logo?
Color type in three easy steps
Color logo, black & white fax . . .
Too many messages
Famous logo links past and present?
Tips for a Web designer's first logo
Verizon logo: One graphic too many
Does Sochi's Olympic logo work?
The soul of the Empire
Ode to the amateur logo
Does Pepsi's new logo work?
Old Pepsi, new Pepsi
A logo request from Bali
Real estate logo gets a makeover
Below are our print articles that deal in one way or another with logos and logotypes, from quick looks to extensive how-tos. Available individually, and all are on our Master Collection DVD.
PDF 0691 | Simplify a card in three steps
PDF 0686 | Design Talk 18 (page 2)
PDF 0680 | Design from a creative brief
PDF 0676 | Gestalt theory: Equilibrium (page 3)
PDF 0670 | Design Talk 14 (page 2)
PDF 0660 | How to set a text-only logotype
PDF 0650 | Design Talk 9 (page 5)
PDF 0643 | Design Talk 7 (page 7)
PDF 0619 | Design Talk (pages 2, 4, 5, 6)
PDF 0613 | What typeface goes with that?
PDF 0608 | Three documents, one look
PDF 0604 | Simple, uniform, repetitive
Issue 38 (pages 4, 12) Print, PDF
Issue 37 (ages 4–5) Print, PDF
Issue 36 (page 2) Print, PDF
Issue 35 (pages  3, 4, 20–23) Print, PDF
Issue 34 (pages 3–5) Print, PDF
Issue 33 (page 3) Print, PDF
Issue 32 (pages 2–3) Print, PDF
Issue 31 (pages 1, 4–5) Print, PDF
Issue 30 (entire issue) PDF only
Issue 29 (pages 4-7, 10–11) PDF only
Issue 28 (pages 2, 5, 14–15) PDF only
Issue 27 (pages 5, 10–11) Print, PDF
Issue 24 (page 3) PDF only
Issue 23 (pages 3, 8–11) Print, PDF
Issue 21 (pages 2, 10–14) Print, PDF
Issue 19 (pages 4–7) Print, PDF
Issue 14 (pages 4–5) Print, PDF
Issue 13 (pages 3 10–13) Print, PDF
Issue 8 (pages 14–15 Print, PDF
Issue 3 (page 10–11) Print, PDF