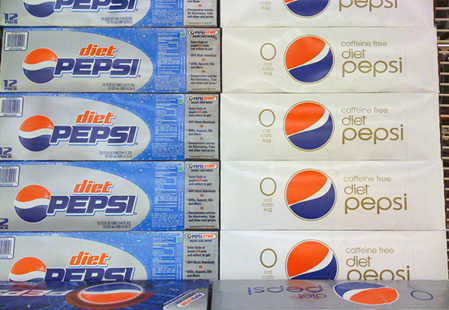 Reader Glenn Kramer writes: "When I last went grocery shopping, I had the fortune of spotting boxes of the new Diet Pepsi logo side by side with the old design. I happen to love the new look. The sans-serif geometric font with the smiley e, paired with the new Pepsi circle, looks forward-thinking to me. I like the change, even if it's hard to tell that the Pepsi circle is supposed to be reminiscent of a smile or smirk.
"However, when I posted the photo to Typophile's Web site, it seems like everyone so far pretty much hates the new look. I wanted to know your take on it. I'm attaching the photo that I took at the grocery store. It's interesting to see the old and new next to each other for easy comparison."
———————
Thanks for the photo and your question. This is a big makeover. Pepsi says it will spend $1.2 billion (that's a b) over the next three years to re-brand its carbonated soft drinks plus its Gatorade and Tropicana lines. Considering the fantastic number of cans, bottles, Web and print ads, point-of-purchase displays, vending machines, billboards, sportswear, stadiums, on and on—worldwide—that must be changed over, well, the scale is mind-boggling.
So does the design boggle you? I'll give you my observations next week, but this week I'd like to hear from our readers.
A couple of points before you write.
One, don't go with your knee-jerk reaction, good or bad. Let it simmer awhile. What you know and like (or not) about Pepsi is attached not to the new logo but the old one.
Two, try to be objective. Focus on this design, not what else it may look like. Almost every image looks a little like something else. Ask, "Do I like this look? Would I reach for it? Would I be happy with it?"
Three, try to articulate the reasons for your impressions. (You're Before & After readers; you can do this.) Keep in mind that we're interested in design here, not business, marketing, strategic planning, what-were-they-thinking?, none of that. Just, "Do I like this and why?" To get you started, you might look at our Gestalt theory: Equilibrium (article 0676) preview, (which is free), and Simplify, the back page editorial of print issue 32 (which is not).
Also, the can in Glenn's shot is one in a series of five, all of which can be seen on Pepsi's site; note how the logo changes from can to can.
Your turn.
(To leave a comment, click on "### Comments" below the print-issue images, then scroll to the bottom.)
For more on logo design, we recommend the following print issues: