A reader on a west-coast vacation sent us this snapshot with the comment, "Kind of a weird sign in my opinion. Great Indian Food. Hmmmm, really?"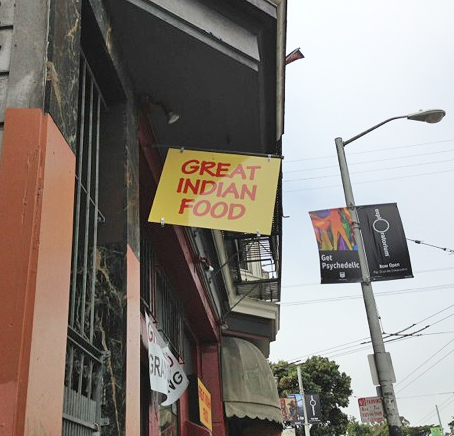 It looks like a Post-it note, but looks, as every designer knows, can be deceiving. Great Indian Food is actually a small, well-reviewed restaurant in the Haight-Ashbury district of San Francisco. What probably threw our vacationer is that the sign reads not like a name but more like a description, along the lines of "Cheap Eats Here!", especially typeset in clear but curiously non-Indian Tekton and hung carelessly askew, or so it appears at a glance. But venture inside, and you'll find a crisp, thought-through environment, basically American style with Indian embellishments . . .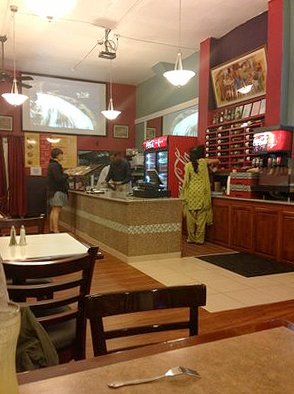 The color-and-type theme continue on the menu . . .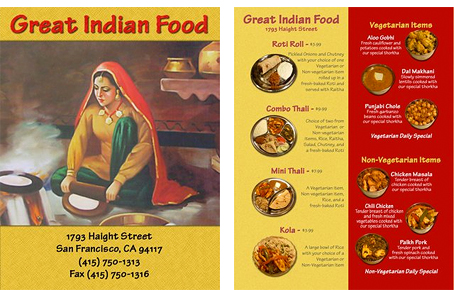 . . . which is similarly flat, plain, and hard-edged. We replied by asking our reader what we'll ask you, and that is, "What if the sign were in a fresher, more-modern environment? Would you have perceived it differently, and if so, how?"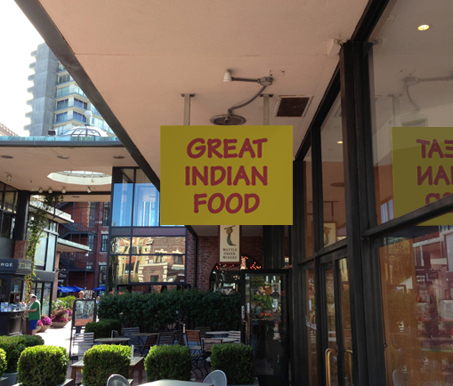 He replied, "It makes it look a little different, but it doesn't really make me think differently about it. To me, the sign isn't believable. 'Great Indian Food' sounds like a statement, or like you're trying to brag. It's just not a sign I trust."
He concluded, "Name aside, if it were set in a different font using different colors, then it would probably sway my judgment of it."
One difference we can see is that in the glassier environment above, you can see in and walk in to check things out (and walk right back out if need be), and you wouldn't have to rely so heavily on the sign. So context, obviously, matters.
Now that you know what it is, what might be done to improve it (in its original environment) while retaining the color theme? (You might Google India colors and textures before answering.)
—————
For more, check out the Design Talk post, Strolling through the mall one day, and our article, How to design big signs.