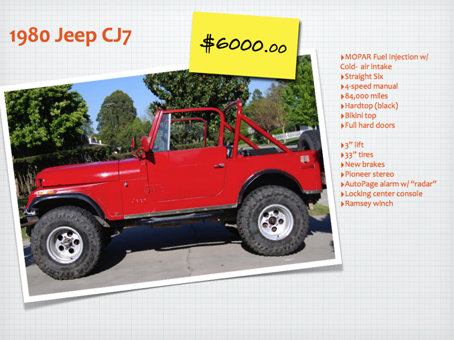 This one did.
More accurately, this is the ad to which the buyer responded.
For those who missed it, last week we posted two craigslist ads by the same seller for the same Jeep and asked which one would sell it. Both were the work of Hernando Conwi, a former marketing manager of Nissan North America, for whom global advertising powerhouse TBWA\Chiat\Day is marketing partner.
He writes,
"Interesting comments. I had seen the first few this morning, but the majority seem to believe that the more playful ad is the more effective. I did that ad first because I wanted to have some fun with craigslist ads, break through the clutter and convey the fun, adventurous things you can do in a Jeep CJ, even if you're just wheeling around town running errands. I got a lot of bites on that one but no serious lookers.
"Then I remembered that the grubby and playful ad was more like a brand ad — conveying brand personality and trying to generate aspirational desire. But anyone looking in craigslist already knows all about Jeeps and is looking to get the cold, hard facts about specific vehicles: engine, appointments, mileage, etc. They already know they want a CJ or a Wrangler. That's why manufacturer ads are different from dealer ads. As ugly as dealer ads are, 100 years of learning underlie those eyesores.  :-)  And, I hate to admit this, but I got iWork '09 and wanted to play with Keynote, so the slicker ad was born. The other difference is that the clean ad featured a vehicle that had just been washed and waxed.
"So, in the end, it all boiled down to the target audience and where they were in the buying process. If early on, then fun and playful and personality is good. But later in the process, it's just the facts, ma'am. Funny though, I got a few comments from people who weren't interested but wanted to compliment me on the ads.
"I sold the CJ for $5,500. I gave the guy the price cut immediately when asked, because I didn't want to go another week or two posting, answering e-mails and showing the Jeep."
* * *
There you have it, class.
Some of you nailed it, understanding the intersection of message, audience and timing. Andrea, obviously a CSI, was the first to decipher what actually happened — that the playful ad had been posted first, because of the mileage differential.
There's an instructive story, though, in the misses. Where we didn't get it right.
The playful ad was indeed appealing. It was grubby, fun, out of the box, entertaining. Most readers, including me, intuitively liked it better. But none of us were buying a Jeep. We were just enjoying the show.
As Hernando pointed out, the Jeep buyer — especially of a vintage Jeep on craigslist — already knows this stuff, that Jeeps are fun. Heck, it's why he's looking. He needs to know only the specifics of this Jeep. There's no need to generate "aspirational desire."
As Ellen put it, curtly but correctly, "Selling a vehicle is different than building a brand. Even classified ads without pix work for selling. Keep it simple. Text ad with photo of Jeep. Done."
What were the misses?
Some viewers mistook an appealing ad for an effective ad — and quite confidently, too . . .
"The second [the playful ad] will sell the Jeep. It is designed — thoughtfully and perfectly for its target audience."
"The 2nd ad is the most effective and would appeal to a "Jeep" audience . . . It will sell the Jeep."
Some made assumptions . . .
"I'd go with the second ad, because it fits most Jeep owners I know."
"I think the second . . . one appeals to the Jeep person and points out the items that are important to Jeepers."
Others made projections; i.e., that if I like it, everyone will like it . . .
"I would definitely be drawn to the second one, because I feel that I could relate to the owner of the car."
"Definitely the second one. It kept pulling my eye and made me laugh."
"I think the second one is great and probably will sell better."
Quite a few mentioned a "target audience" but then got the wrong audience (i.e.; non-craigslist) . . .
"It tells the story with a personality that matches the target audience."
"The second . . . ad is designed for a young, fun-loving audience. Designing for your target audience always wins — with that audience."
"The 'grubby' one certainly attracts the eye quicker and is playful, which suits the target audience . . . ."
And so on.
So what do we know?
We have here a good illustration that graphic design is about more than graphics. No message, no matter how captivating or attractive, can overcome a fundamental misdirection. The Jeep can be running beautifully, but if it's on the wrong road, it's not going to get there. This is why Hernando made his midstream course correction.
He kept his eye on the sale.
We have a similar goal with every design we make. It may not be a sale, but it's a result of some kind. It's a good idea to stay with it, to be thinking, "Am I sure of this? Do I know that?" Whatever.
In the end, it may simply be that this ad worked and the other one didn't because it was the hook in the water when the fish swam by. This ad, not the other, is what the buyer saw. Which is how it is with classified ads.
But we don't know.
This has been a fun post. Thanks for every comment — without which we together wouldn't see this stuff so clearly.
———————–
For more on designing in small spaces (not classified ads per se), we can recommend PDF articles 0629 and 0641:
We can also recommend print issue 26, specifically the article, How to design a Yellow Pages ad. Yes, we know, Yellow Pages are so 20th-century, but the principles of good design in tight spaces have not changed and are oh, so pertinent in today's manic, online world.