Some time back, our senior designer pitched me a story idea for setting callouts, those short blocks of oversize copy that you often see interrupting the text in print articles, particularly in magazines.
Because magazine design is my favorite topic, I said okay, which may not have been the right answer. I say that because we immediately got stuck, and it took us two months to get unstuck.
There are many ways to design callouts, from the prosaic to the spectacular. The idea was to present two dozen good-looking examples, giving you a cheery little buffet from which to pick and choose. But that's before we'd had our coffee and started thinking. Which two dozen? Long ones or short ones? Big type or small? Wide or narrow? Center of the page? Top? Bottom? Which typefaces? Why? What will they say? How about color? How do they interact with other elements on the page?
It soon became evident that his innocent little idea had faked us out, as design often does. Fakeouts happen when what you think you see and what's actually going on are different.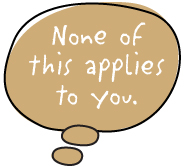 Take this example. Cute shape, hand lettering, it looks fine in the context of this page. I can tell you that its typeface is 34-pt Litterbox ICG, that the shape is hand-drawn in InDesign, and that the color is a 50% tint of Pantone 132, which displays onscreen as R202, G171, B123. That's enough information to make one yourself. But there's a problem. The problem is that you're working on a heart-disease brochure or a hardware catalog or a water-conservation report, and, well, none of this applies to you.
You need something serious, and this little cartoon isn't it.
So how to make the article? "Serious" isn't something you pull out of a hat — as in, "use this typeface, that size, this color, that position." It involves a whole cascade of attributes developed in response to the context in which it exists. "Serious" as in war casualties is different from "serious" as in getting your hair right for a date.
The part of design that fools you, that your eyes don't see — the part that's actually going on — is this context thing (which, by the way, is what clients know that designers often don't). Design — at least commercial design — exists for a purpose. And without the purpose, the design is pointless — mere decoration, clip-art, filler.
You can spend hours, days, weeks trying to design something cool, but if the context is unclear or unknown, it never works. Cool looks are simply not enough. In our case, to connect callouts to context, we started the article over four times, literally, from scratch.
Context is the unseen, unheralded, unappreciated driver of design.
—————

How did our callout story turn out? See for yourself in Before & After article 0669. Those of you with our Master Collection DVD will find it in issue 47.