Jayne writes: "I am wondering about this logo for a thrift shop. My professor had told us to remember the acronym R.O.Y.  G.  B.I.V. for the best colors to use for a logo. That is, first red, then orange, yellow, green, blue, indigo and lastly violet.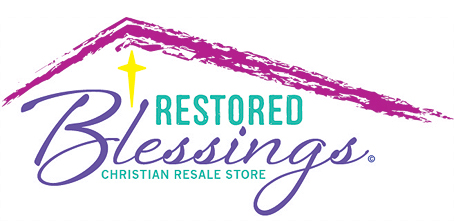 "I wasn't sure we should be using those first few colors, since we're not McDonald's or Burger King; I wanted it to look more homey. I was also trying to show they have just about everything under one roof (furniture, kitchen, clothing, etc.). My client's only wish was to keep the cross as part of the logo."
———-
Hi Jayne,
1) There is no such thing as a "best" color for a logo.
2) "Homey" requires warm colors, not the ones you're using.
3) "Everything under one roof" is too much stuff for a logo. A logo should be a simple mark that's memorable. Everything else is marketing.
Before you get too far down this road, however, the question to ask is, does this store need a logo at all? I suggest that it does not; instead, just present its name clearly and attractively. People usually shop thrift stores out of necessity; finding a modest, expressive typeface that dignifies the store and its customers will be an artistic challenge and a kindness.