Once upon a time, I knew everything there was to know about Page- Maker, at least from a user's point of view, and in the infancy of desktop publishing that made me something of a guru, the guy atop the mountain up which you'd trek to get answers. Even Apple would phone.
But that was then. Life got busy (thank you, Before & After) and took me in other directions. Today, software-wise, I'm in with the crowd. InDesign, for example, can do so much that I don't even know half of its features, much less use them. I just figure I'll learn as the need arises, and, yeah, I'd be more efficient at this or that small task if I knew the shortcut, but hey, it's small, and I don't have the time.

So last Monday I get a note from type designer
Ulrike Wilhelm (left), along with her latest typeface, which she's calling LiebeDoni — Liebe meaning love in German, and Doni being short for Bodoni. Like her others, it's hand-drawn, only this one comes with more than 600(!) glyphs, which are alternate characters and swashes and ligatures and all the rest.
I install her font and start typing. But when I try using the standard Option and Option-Shift keys (Mac) to access its special characters, all I get are the normal diacritical marks, not the fun stuff.
Hmmmm. With more-ordinary typefaces, one gets to special characters — small caps, for example — by selecting a different typeface. There's Adobe Garamond and Adobe Garamond Expert, and the special characters are in the Expert set. But LiebeDoni is a standalone font.
"Ulrike," I write back, "what's the secret for accessing your glyphs?"
Next morning she sends me a (simple) lesson in InDesign glyph-finding. This makes me only slightly embarrassed until I begin asking around the office, and no one else here knows this, either. So I figure that if it's new to us, it may be new to you, too. So here's a look at Ulrike's new LiebeDoni, plus how to make magic with big character sets.
By the way, she says that if you like the font, it's 30% off for Before & After readers through September. Enter bamagazine_30% in the gift code field.
A (small) taste of Italy
LiebeDoni (below) is a fairly straightforward hand-rendering of Bodoni Black . . .

. . . but without Bodoni's filets, which are the filled curves that join stem to serif and would look like this . . .

It comes in a solid version (above, left) and an outlined version (below), which I find more entertaining . . .

It also comes with more than 600 glyphs, which are alternate characters, swashes and ligatures. Below, for example, are some of its curlicues and five different ampersands . . .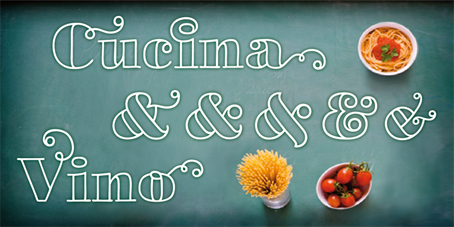 The fun began once I got to the curlicues via the Glyphs palette . . .

. . . then converted the type to outlines and began coloring:

Although Ulrike bills LiebeDoni as an Italian typeface, I enjoyed it more in this festive dress that resembles stained glass:

Anyway, there are two ways to access InDesign's glyph sets. One is to call the Glyphs palette . . .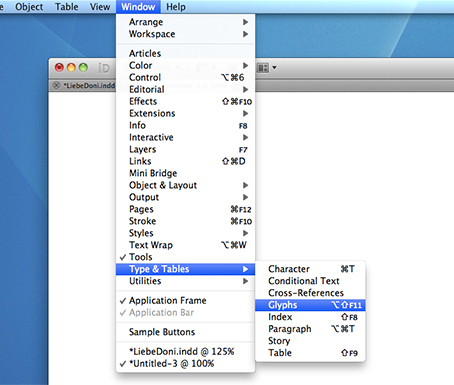 . . . which looks like this: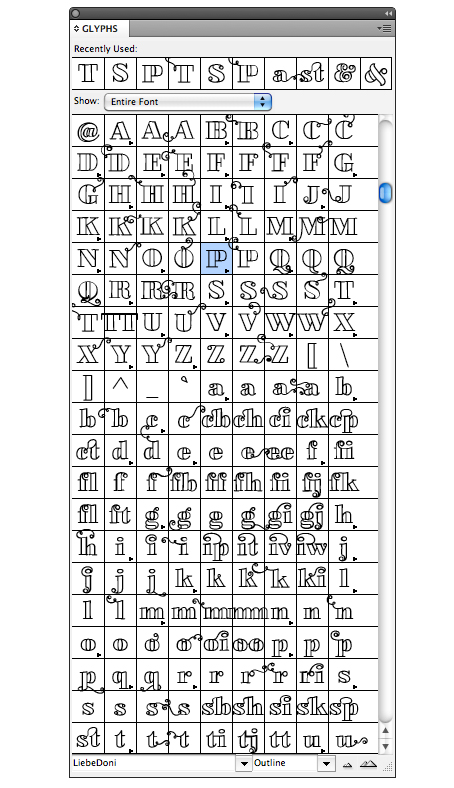 What I like is that the Glyphs palette displays every character in the set (note in this case that it scrolls a long way), which makes shopping a breeze. Select the character you want to change . . .
. . . then in the Glyphs palette, double-click an alternate setting. It's sweet.
Glyphs can also be accessed via the Character palette. This limits you to one alternate, which for most fonts is all there is. LiebeDoni has more than that.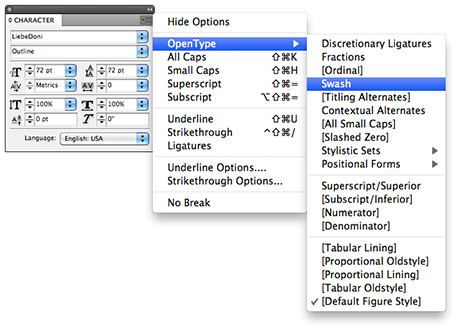 Unlike the Glyphs palette, the Character palette allows you to set an attribute in advance, so InDesign will replace every instance as you type. This is ideal for fractions, small caps, old-style numerals and such, which you want in every case, and sometimes for discretionary ligatures like the ki, below, which you typically want in some instances but not all. . .

For Swash, it's not so good . . .

So there you go — our discoveries for the week. A new typeface, plus InDesign's glyphs. LiebeDoni is extensive enough that I lost a couple of hours exploring its nearly endless iterations. It's pretty fun. If you like it, remember that it's discounted through September.