Dear readers, the following conversation between Ifat Glassman and me took place on the Design Critiques & Reviews forum at AllGraphicDesign.com. Ifat is an artist (painting and drawing), and this is her first attempt at a logo.

This logo is to serve as part of the Web site I am building:

I thought it was pretty neat having the text in the middle, although some people I've asked don't like it. So I thought I'd ask if you like it or not and why, and if you think the text in the middle is clear or not, and so on.
Please take under account the use of the logo in the Web page (I need something that fits in there).
Thanks!
Ifat Glassman

Hi, Ifat,
Pay attention in several things.
Your image is complex. Three things cause this. Upper- and lowercase lettering, outlines on the letters, and, especially, the term "Web Design" atop the name. The conflicting lines and spaces weaken the image.
The typeface is bland. Real glass is hard and flat, all straight lines and sharp corners, and transparent and reflective (usually at the same time). Your lettering is soft, round and puffy. You might try looking at a very light version of Neue Helvetica in all caps, set with letters almost touching. It would give you the incisive quality of glass. There are other possibilities.
The color is bland. Sky blue is for baby blankets. When I think of glass, skyscrapers come to mind — black, dark gray, gunmetal blue, aluminum, full of reflections and angles. Your experience may be different. You might look at some photos to see how glass behaves in nature.
Remove the outlines. What you want is simplicity and clarity. Fine type is high art, and the correct typeface in a solid color will not need adornment. To test this, visualize any famous logo. Now imagine an outline on it. It makes it weaker.
It's a good rule of thumb to make a logo that works in black & white. It must work at small — even tiny — sizes and at low resolution. For an image to work under these conditions, it must have clear lines and shapes, simple forms, and solid colors, the building blocks of good design.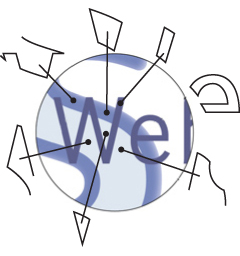 Take "Web Design" off of your name. Overlays are rarely a good idea, especially in such similar colors. Overlaid, two typefaces acquire dozens of undesigned lines, shapes and spaces (right) — some from one word, some from the other, and some from the combination — that muffle and confuse both words. It might help to visualize "Web Design" stuck to your car windshield. It would blither your view of the road and everything else! Keep your title separate. Best place is beneath your name.
Finally, Glassman is a picturesque name, but your business isn't about glass. The visual suggestion of glass can be interesting and memorable, but don't overdo the connection or you may be mistaken for the window washer!

Thank you for your elaborate reply. You have some very good ideas. I will try to apply them. I think letters without an outline would indeed be better. I will also look into how to make it appear glass-like. As of now, you're right, it does look kind of puffy, haha. Didn't think of it like that.
The comment about the logo having to work in smaller sizes is also important. I'm just starting, and with only two websites, it is hard to think so far ahead as to consider business cards.

I've worked on the logo. I had several ideas, and I tried to keep it simple. I'll show you what I've done.

It doesn't look as good on a white background, because some of the shine effect is gone. Still, here are the full resolution images of what I've done:

I've used your great suggestions (you have a remarkable ability for formulating design elements). It wasn't easy, but I think I did a decent job creating a glass effect. I'm uncertain how it works as a whole; maybe it is too much text.
I've also had an idea to use the S in a certain way, so I did this:

However, I think it may be too visually packed, so I may have to go with the simpler version above.
What do you think?

I see that you've worked hard, but your new images are more complex than your original!
When I say complex, what I mean is the mixture of many different elements. In this case, you've drawn a reasonable facsimile of real glass, but you've then added other, unrelated things.
In the top example, I see a backdrop (that's one thing), shadowed (that's two things), bordered (three things) in an unfamiliar shape (four things), plus the words web Design in two different typefaces and sizes, set large enough to compete with the name Glassman. With all this different stuff, what happens is that the eye has nothing to lock onto; it gets pulled in several different directions, and the energy is dissipated.
In the bottom example, your swashy word Design with that long, looping s is a totally different thing from the uppercase glass letters; basically you have two design concepts in one piece, and they neutralize each other.
And remember that thing about depicting glass too literally? Your name may be Glassman, but your site isn't about glass, yet your glass letters give the viewer the sense that it is.
You're working too hard! Instead of drawing something, think first about the message you want to make.
I suggest that for your Web-design site, you'd want only a light association with the idea of glass, and you'd want to convey a sense of graphic design, meaning discipline, planning, clarity and so on. Try this:

Don't be concerned if it looks plain; it's here as an example. This is Neue (it means New) Helvetica Ultra Light. Pay attention to its incisive lines, its sharp edges and angles, and the clarity of its letterforms, qualities that are not only glass-like but convey a nearly architectural sense of design. The ultra light weight is fragile (like glass), while at the same time it is clearly a mechanical drawing, rendered with planning and discipline. Faint, blue-gray is the classic color of glass.
I've done hardly any work. I've typed your name, and we've let the type designer do the work.
Here's what it looks like on a business card: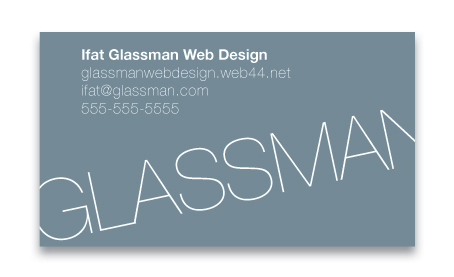 This is what I mean by simple. One typeface, two sizes, no adornments, embellishments or special effects, one color. It's inexpensive, easy to do, it looks designed, and it hints of glass.
This may not be your look — I realize it's not the look you've established on your site — but its qualities are simplicity and clarity of expression. That's what you want to shoot for.

Hi John,
The background is not part of the logo; I just took a snapshot of the logo against my web page to show how it looks against a dark background.
So those elements (the half-half color with shadow on the side, etc.) are not part of the logo at all.
Thanks for the feedback. I think you have a real talent for analyzing graphic elements and articulating it.
Don't like the business card appearance that much, but wow — thanks for taking the time to do it!
I think I will either stick with the first puffy logo simply because the new one does not look good on the web site, or change the whole curvy thing I have going on there to make the new logo fit in.
In any case, I'd like to finish this website and move on to building new ones, so I don't think I'll devote more time to a new logo.
Thanks again very much for your great feedback.

Hi Ifat,
Although your background is not part of the logo, keep in mind that a logo is not an isolated object; it will always be seen in the context of other things, and their visual properties will either complement or clash. You want to retain control over the look and not allow unintended clashes to occur.

The logo I have now actually applies most of the suggestions you gave me.
Your feedback later on was focused on all the elements that are not part of the logo (they are the background the web page gives the logo).
In any case, I used the logo to create a business card. This is how it looks against a dark background: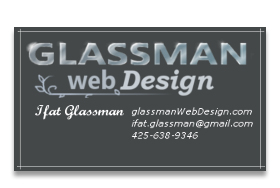 Regarding the "glass in your face" — I don't think I am under the danger of being mistaken for a glass manufacturer, although the thought did cross my mind at some point . . ."hello, I'm here to shine your windows." But seriously, I don't think this is a problem.
Thanks for all the feedback; it's been very useful.
—————