At Ace Hardware recently shopping for silver polish, my wife kept gravitating toward an 8-oz. tub of "Wright's Silver Cream" out of the half-dozen choices. On the shelf next to Wright's was the obviously cleaner design of "Maas Metal Polish" in a metallic silver box. So I hold the two side by side and ask Gaye, "Why would you say you prefer the Wright's?" She took the question seriously, thought for a few moments and said, "It looks like I can trust it."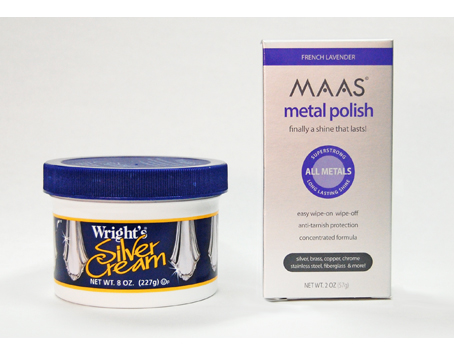 So we bought both polishes, and I changed the name on the metallic box to Wright's Silver Cream . . .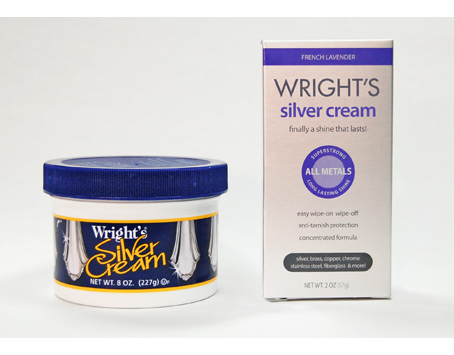 . . . which made it clear that the difference is not in the name but in the design. Gaye still preferred the tub, and, I must say, so do I.
What's going on? The tub breaks a lot of rules. Garish yellow border (which has what to do with silverware?), felt-pen logo, cheesy typography and silver utensils worthy of the White House, all crashing at once. The Maas box is simpler, with fewer lines and shapes, a single typeface, a centered layout — more disciplined, purer.
So why does the tub work? Because, in this case, it appeals to Gaye's needs. It's round, organic, human. It fits your hand. It has a big mouth, easy to dip a rag, expansive, generous. And the label looks rather homemade, which is where the polish will be used, in the home, on nice stuff. Familiar. Non-threatening.
In contrast, the straight lines, hard edges and spare typeface of the metallic box appear hard, industrial, unyielding. Inside the box is a silver tube that requires squeezing, like toothpaste. Its narrow neck conveys constraint, resistance. The visual effect is cooler, less personal, more appropriate for car or power tools, work you'd do in the garage.
So in this case the tub wins. That said, the tub, like many successful products, is not beautiful. It succeeds because of its humbler, less-noticed assets, mainly its physical package.
Don't overlook this. The size and folds of your page, the format of your screen, the shape of your product — these are real influencers that beautiful graphics can modify but not overcome entirely.
1. Have you seen similar examples?
2. How much better might the tub do if its color/surface/label were beautiful?
3. Could beautiful (warm, organic, non-threatening) graphics make the box more appealing than the tub?