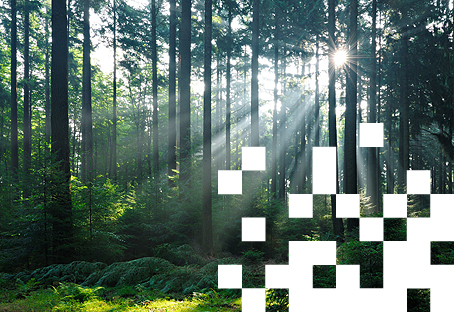 After posting my comment last week about printer points (72 per inch) matching Mac screen resolution (72 pixels per inch), I got wake-up calls from readers Saul Bottcher and Mordy Golding.
Said Mr. Bottcher . . .
"Nooooo! Not the 72 ppi [pixels per inch] myth again! Your tips are normally great, but you have just done a disservice to any designer who is trying to make digital and print work together.
"Here's a current-day example of why. These specs are straight from Apple's site:
"15-inch MacBook Pro has a 15.4" screen and runs at 1440 x 900;
"15-inch MacBook Pro with Retina display has a 15.4" screen and runs at 2880 x 1800.
"Obviously, these machines cannot both use 72 ppi, and in fact there is a huge difference in ppi between the two displays — one has double the ppi of the other!
"The fact is, 72 ppi is not a standard and never has been. CRTs [cathode ray tubes] have always had a flexible ppi. LCDs [liquid crystal displays] have a fixed ppi, but it varies by model/make/size.
"Please help to dispel this myth! People need to understand that there is no reliable print-to-web ppi conversion. When designing for the screen, you need to consider multiple ppi's, sizes, and even color temperatures and gamuts. (Which is why web design is hell.)
"For some reason, the 72 ppi myth is one of the most persistent incorrect 'facts' about computer hardware and refuses to die."
Mr. Golding added . . .
"The single Mac pixel=1 point thing was true when the Mac was first introduced. It had a 640 × 480 resolution screen that translated to 72 pixels per inch. In fact, the whole 'web graphics resolution is 72 ppi' thing is based on that ancient belief. Truth is, the resolution of a web graphic is dependent on the device you are viewing it on. There is no resolution for web graphics.
"The iPhone 4 Retina display is 336 pixels per inch, and the new Retina MacBook Pros are far higher than 72 ppi.
"Regarding InDesign, it's one of the less-than-sexy features of CS6, so no one talks about it, but CS6 looks at your monitor's resolution and uses it. In CS6 when you view your artwork at 100%, it's actually 100%. Hold a ruler up to the screen — you'll see."
Reader Brad Grigor expressed his doubts, too . . .
"Hmmmm, I'm bothered a bit by the assertion that 'A point is identical to a Mac pixel — the Mac runs on 72 pixels per inch.' This is misleading, since few monitors are now (or ever were) actually 72 pixels per inch.
"I think it's advisable to forget that there ever might have been any connection between a well-defined unit of measurement (point) and something whose size is getting smaller every day (pixel). Someday InDesign will let me set the real resolution of my monitor in Preferences so that 100% zoom means something."
Gentlemen, thank you all.
So a one-inch image on paper (72 points per inch) translates into roughly one-fifth of an inch on the iPhone Retina display (336 ppi), and somewhat larger sizes on other modern displays.
This is obvious if you think about it, and it got me wondering why I hadn't.
For one thing, it shows how long you — or, accurately, I — can go without thinking about something. Not just pixels. I can go for decades carrying gaps in my knowledge, ancient opinions, untested assumptions. I recall my mother, as late as the 1990s, telling me she wouldn't buy a Pontiac because "they were hard to steer." This is because the only Pontiac she had ever driven was a big 1951, with heavy, unassisted steering, normal in those days, when she was 24 and pregnant. Technology changes faster than beliefs.
Muhammad Ali once said, "A man who views the world the same at fifty as he did at twenty has wasted thirty years of his life." How many opinions of an unformed 20-year-old do I still hold?
Anyway, another thing is that paper-to-glass correspondence doesn't really matter, at least to me (given that I've ignored it for so long). A paper magazine has a physical size that's real; an 11-inch page feels like 11 inches because it is. A foot is this long, a yard is that long, my desk is 30 inches deep, so on. Real things.
A page in cyberspace doesn't feel that way. Cyberspace feels infinite.
I have a 27″ Apple monitor, which is a pretty big screen. Physically, it's 17-1/2″ deep. The image part is 13″ deep, a mere 2″ deeper than a letter-size sheet, but I couldn't have guessed that; I would have said it's much larger. Why? Perhaps because my monitor doesn't feel like a page; it feels like a window, through which sizes are viewed relative only to each other, not to real life. Perhaps because cyberspace, in a sense, is infinite. Unlike a paper book, which has a last page, cyberspace does not end; there is always another click. The psychology of this, besides making us tired, may get translated to our perception of physical space. Endless feels the same as sizeless.
Whatever the case, thanks again to you guys for knocking me upside the head (and to those of you who thought about it). Brad, InDesign CS6 does exactly what you predicted, so your "someday" is here. Mordy reports, however, that even at exactly 100% measured on a ruler, his pages onscreen still look smaller than on paper.