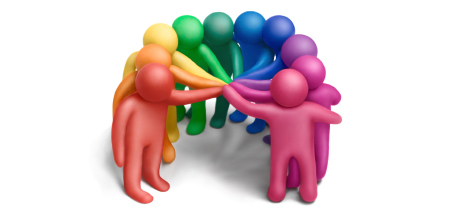 Dear readers: What follows is a funny little conundrum regarding logo design by committee originally published in Before & After Issue 27, 1996. I reprint it for you here.
—————
Reader Darrell Jamieson of Broken Arrow, Okla., sent us the following clip from the Jan. 21 issue of the Tulsa World newspaper:
"Just when it looked like Tulsa County's mayors and commissioners were working smoothly on the new Tulsa jail trust authority, an impasse has developed.
"The Tulsa County Criminal Justice Authority members can't agree on what the group's letterhead should look like.
"County Commissioner Bob Dick, chairman of the seven-member jail authority, wanted the group to have its own letterhead so officials would not have to use county letterheads when mailing materials to other government agencies or companies involved in building the jail.
"At a Jan. 12 meeting, Dick submitted three designs to other members of the authority, thinking one would be accepted with little discussion. However, four members, including Tulsa Mayor Susan Savage, rejected the designs.
"One of the designs, a triangular logo with the authority's name over the motto 'Dedicated to Community Safety,' looked 'too much like a road sign,' in the words of County Commissioner Lewis Harris.
"Another design, which featured the authority's acronym superimposed over a set of jail bars, was "too artsy," Harris said.
"Owasso Mayor Charles Burris also noted that every city in the county except his was included in the three designs.
"Dick concluded, 'We want a non-artsy-craftsy, dynamic logo that doesn't look like a road sign.'
"Although jail authority members joke about disagreement over the letterhead, they admit that picking a symbol to represent the group is taking a little longer than they had thought it would.
"With a few exceptions, members have agreed on several key points in the jail building process so far, including unanimously picking a law firm to represent the authority.
"On Friday, members saw two new designs, one from Burris with Hollywood western lettering and another from county staffers with the motto 'TCCJA: Justice for Green Country's Second Century.'
"'I don't really care what it looks like, but I'm not sure that [motto] is something I'd like to go along with,' County Commissioner John Selph said after the meeting.
"Savage also wants to submit designs.
"'We're not graphic artists, but it's clear we want to have something simple but functional,' she said. 'This is just a housekeeping thing we need to get done.' "
—————
And there you have it. A fellow submits three designs to his colleagues who embrace his idea but reject his art. One town mayor responds with his own design, and another wants to submit hers. Never mind that this is about a letterhead. What's funny is that all of it is perfectly normal.
Design looks easier than it is, and it's more important than it looks. For sure it's not "housekeeping."
Why would the mayor offer to do the housekeeping? How can this group agree on legal counsel but not on the housekeeping? Why do all have an opinion about the housekeeping? "I don't really care what it looks like," said one commissioner. What he doesn't see is that he actually does.
We all do. Design is us and it is personal. How something looks tells the world who and how we are. The commissioner, certainly, doesn't care what his letterhead looks like in the way that a designer would. But the right look will speak to him, and the looks he saw didn't. This is what I mean when I say design has a voice.
This voice can be heard everywhere. It drives the mondo-billion-dollar apparel, accessories and cosmetics industry (we're designing ourselves). It drives the auto industry. It drives the building industry. It drives the consumer-products industries.
When Steve Jobs started his Next computer company, his first act — before he had a building, before he had employees, before he had a product — was to pay Paul Rand $100,000 to design a logo. And Rand's black cube gave Next its sleek identity.
NBC once paid a designer a million dollars to design an N.
Tulsa's mayor calls for a letterhead that is "simple but functional." What she means (or hopes) is a color or shape or a few lines that embody and express, for all to see, the jail trust's abiding attributes: dignity, service, competence, integrity.
To find this, though, you must look up . . . toward the light. Not down at the dust mop.