I've read the reviews of Apple's new iPad. "It's a big iPod Touch!" "It's a Kindle, but nicer." "It plays movies, but so does my computer." "It doesn't have a camera." And so on. All are correct observations, but all are wrong. They're wrong because they look backward. They compare to stuff we already have. The stuff we have is old. The way we live — phone, surf, socialize, whatever — no matter how fresh it seems today, is the result, literally, of yester­day's vision. Yesterday, Facebook was a hobby. Twitter didn't exist. We used our cell phones only to make phone calls. Today we live differently because these things caused a change.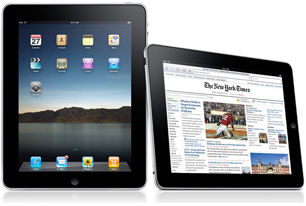 The iPad will cause change. No one knows in what way, though. That's what makes it fun. It's an unwritten story, full of possibilities.
What's this have to do with design? Only everything. But before we go there, let's talk about vision, and I'll start by digressing.
One of the thrills of youth is that everything is possible. At 18, you can attend any school, follow any profession, travel anywhere, marry anyone or no one. There are practical restrictions but no conceptual ones. The freedom is exhilarating!
As you make choices, the possibilities diminish. Choose one school and you eliminate a thousand others. Marry one girl, and you forsake all ­others. Travel here, and you can't afford there. Find a profession, and it becomes what you do. The better you get, the more distant alternative professions become. There is some irony in this. As you build your life, decision by decision, the possibilities of youth go away.
For some, this is a good thing. Possibilities are unsettling. Certainty, predictability, routine create a comfort zone. Life feels secure. These people become product reviewers.
But this is not you.
You have a life.
Interviewing Apple's Steve Jobs for the April 1 issue of Time magazine, author Stephen Fry writes,
"In five years, Jobs has emerged from two serious health scares. His obituaries had been written, much as Apple's had been back in 1997. 'Is this then the curtain dropping on your third act?' I ask. 'Will you perhaps leave Apple on this high, a fitting end to your career here?' 'I don't think of my life as a career,' he says. 'I do stuff. I respond to stuff. That's not a career — it's a life!' "
Indeed.
Jobs' vision is not clair­voyance. It's belief. Call it your gut, call it the love of the game. You do the work and put it out there, then watch the world respond. The combined response is what makes tomorrow happen. What it will become is too complex and inter­woven for any but the most superficial guesswork. Tomorrow is the story that we — you, me, everyone — write together.
So how do you design for this? Make your work beautiful. Make it simple. Make it clear. Put it out there. Cast off the illusion that you can control the results. People respond by comparing to things they already know, so prepare for criticism. Ignore most of it. Listen to the bits that resonate. Understand that the more original your work is, the less others will be able to help you.
Your design may be an iteration of one that has gone before. This is fine. But when you truly envision something new, when you feel that vibe, don't back off. That's the one that may change things.
.
—————

The post above is my back-page publisher's letter from print issue 49, which is currently in the mail. The publisher's letter has been a staple of Before & After for 20 years and is one difference between our print and PDF formats.
.
.