Rummaging through my Favorites file and found two fonts.
Tritura is new to my library. It's the best distressed, blackletter typeface maybe ever, full of antiquity, grandeur, weight, and with immense power. The distress is designed in, not added on, and it's really ragged, some letters approaching illegibility unless they're in context. A set of small caps is available. I use Tritura for everything I can find an excuse for. Be sure to experiment with subtle color gradations (note, below, the initial cap and first line), which add a rich and even more weathered patina.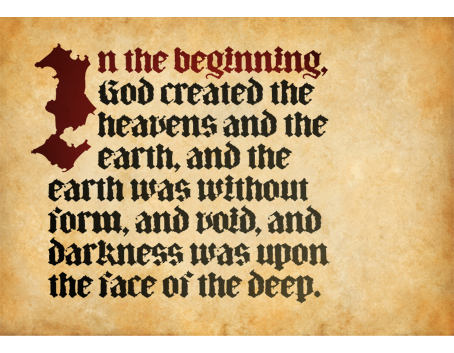 The second is LeibeFish, which couldn't be more different and is only technically a "font." I'll just quote from the Web site: "LiebeFish is a collection of 172 individually hand-drawn fish. Each has its very own personality; some are happy, some are sad. Some like company, some are bored, most are cute and a few are weird. If you look closely, some fish will surely look like people you know." Like a normal font, the fish are available via the keyboard, so file size is tiny and they're easy to type, although, practically speaking, they're too detailed for much below 60 pt. Converted to outlines, they become regular art that you can scale easily and color however you choose.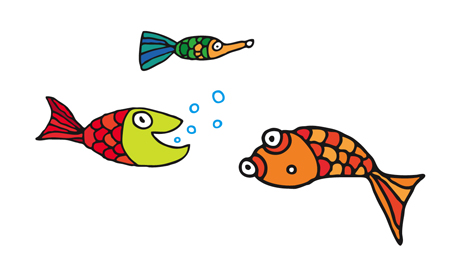 .
—————
I have a favor to ask. It's a big favor. If you've bought one of our books, I'd really appreciate you leaving some feedback on the bookseller's Web site.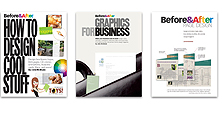 To help you (and, I hope, give you something in return), I offer six questions from Sean D'Souza that are worded to yield the kind of specific information that makes great, incisive testimonials. You'll see this when you start writing, so be sure to ask them of your own (or your clients') customers, too.
1) What would have prevented you from buying?
2) What did you find as a result of buying?
3) What specific things do you like the most?
4) Can you name three main benefits?
5) Would you recommend the book? Why?
6) Is there anything else you'd like to add?
Links to the booksellers:
Amazon
Peachpit
Barnes & Noble
Borders
Thank you very much.
.