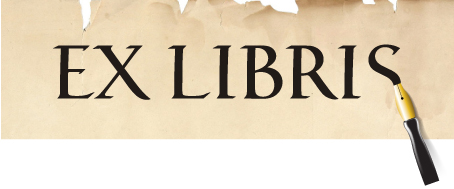 Do you recognize this typeface?
Catull is a calligraphic-style font created for Berthold in 1982 by type designer Gustav Jaeger. Its faintly curved strokes and flat-nib serifs and terminals are natural characteristics of handwriting and convey a sense of age, warmth and intimacy — the opposite of cool, modern and digital.
Which is something that designer Ruth Kedar had in mind in 1999 when she chose Catull for her famous logo . . .

Said she, "Catull borrows elements from traditional writing instruments such as the quill and chisel, with a modern twist. Search, by nature, is an activity that requires we look into the past. Therefore, Catull's historical ties seemed appropriate, as did the bridging between the old analog world and the new emerging digital era.
"It must be remembered," she told Haaretz.com, "that at the time, many people were afraid to use the Internet, and it was important to broadcast something user-friendly both on the home page and in the logo. Something simple, that you didn't need to be scared of, something catchy and full of life."
Hmmmm.
I see the reasoning, but . . .
Had you made Google's connection between new and old? I hadn't. Not even subliminally. The cues are too subtle. A word that looks like goggle and sounds like oogle and feels like giggle in colors like kindergarten isn't going to connect historically unless the connection is obvious, more like this . . .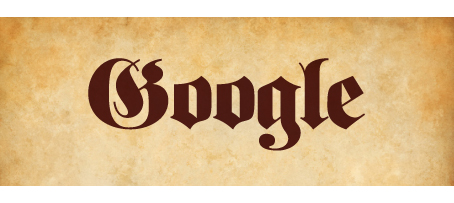 I exaggerate, but only a little.
It's something to keep in mind. This is a case where the appeal is in the word itself. G-o-o-g-l-e. When you find yourself here, generally speaking you don't want to add a visual trick. And understatement, as in this case, rarely works either.
I think Google would be better off with a typeface that looks, well, googly.
For more on the development of Google's logo, check out Wired magazine.
For more on how to design a text-only logotype, check out our article.
.