Is it just me, or has time sped up? It's been a non-stop busy summer, and the time has just evaporated. Could someone please reset the calendar to, oh, mid-March, where my head still is?
Our new book is nearly complete, and we're liking it. Cathy Lane, editor of LogoLounge, is editing, and Kim Scott of Bumpy Design is assembling it for Peachpit Press. These two did our first two books, so you'll see a family resemblance. For those who've asked whether it's new material or old, it's old (published is a better word). Our books are articles from the magazine, collected by topic and reformatted. Subscribers will recognize the material, but the new format and sequence change the perception noticeably.
Thank you very much for your help with the cover. You may remember that we had no time for big revisions, so we incorporated the half-dozen suggestions we heard the most (but which would leave the format intact), and ended up with a stronger design.
Here's the "before":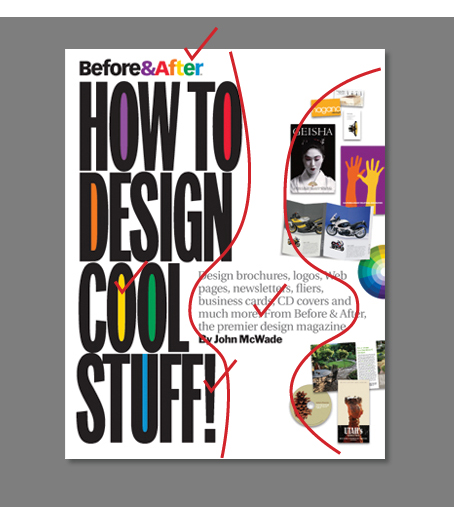 1) The bold version is better than the light version.
2) You could pilot a steamship down that river of white! The images are too small, too detached, and there are too many of them.
3) Make the logo bigger.
4) Lose the colored fills in the letters.
5) Lose the exclamation point.
6) Write shorter copy.
Here's the "after," which we sent to Amazon: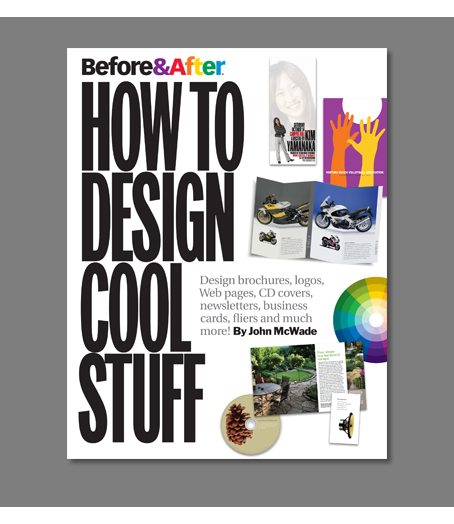 Every change improved it.
Still, it's not final. The cover was designed before the contents were chosen, so some of these images will be replaced.
Won't it then be different? No. Despite their differences, the "after" above isn't a true variation of the "before"— the covers are, practically speaking, one design, tweaked. How to tell? Use the two-second-glance rule: Glance for two seconds (only two, which is really brief), look away, then ask, "same or different?" Our design guru Gwen Amos says that she'll assign students to design "three variations," and, often as not, they'll turn in one design plus tweaks.
This is a variation . . .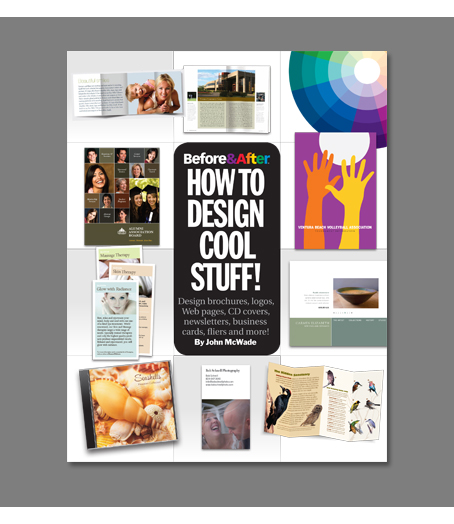 Even here, although it's different, it's conceptually similar—tall, uppercase type (Franklin Gothic Condensed) that serves as a focal point (reversed, in this case) and plenty of colorful graphics from the magazine. The Peachpit decision-makers gave this version a quick thumbs-down, not because it's a poor design but because they loved the other one!
If a client asks you not for variations but for different concepts, then you need to give him something like this . . .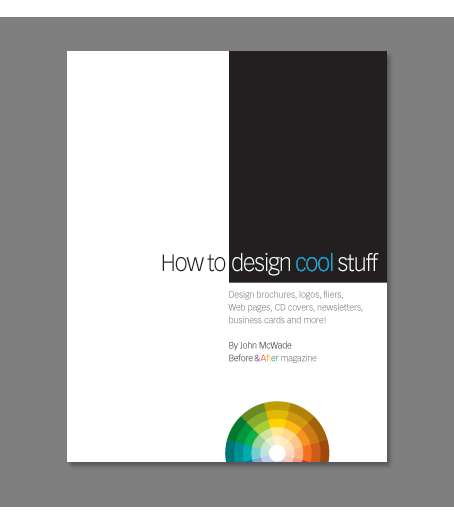 . . . which makes an entirely different impression.
Tweaks. Variations. Concepts.
When your project is in the "how-do-we-present-this?" phase, concepts are better than variations, and variations are better than tweaks.
Remember the differences.