Mike writes, "I'm a student at Butler University, and for a project for one of my classes we're creating advertising material for The F.I.L.M. Project, or 'The Family Images for Lasting Memories Project.' The company is a group of 'photographers worldwide gifting professional family portraits to cancer patients and their families during their most fragile time.'
"One of the optional aspects of this project is to remake the company's logo; it's not mandatory, but the company is willing to listen to ideas for a new logo. I've been reading some of the previous Design Talks and thought this could be a possible topic, and something that the company could actually use. The logos are attached. If you have any thoughts, comments, or ideas for a new logo, please let me know. Thanks."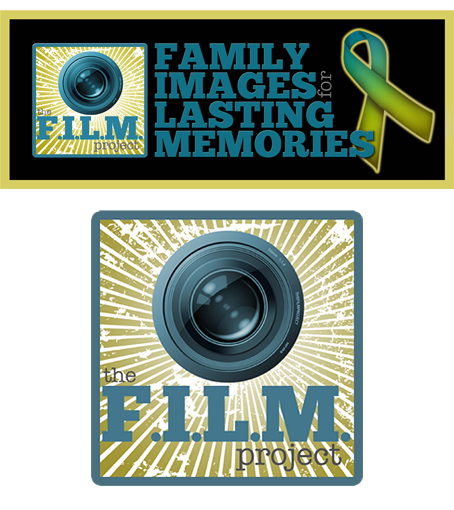 —————
Hi Mike,
Thanks for bringing this project to our attention; I've forwarded it to a few photographer friends.
I couldn't attempt a makeover without a creative brief, which requires direct interface with the client — do they want a logo, and why, and what, and etc., etc. But here's a 30-second crit.
The logo is serviceable as a label but visually out of touch. The dense block of bold, cap, slab-serif type on the massive black rectangle is too heavy-handed for the gentle-spirited nature of the project ("families during their most fragile time"), although I see that the rectangle is not used on their site. Its complexity, too, makes it difficult to remember,* opposite what you need in a logo.
The camera lens looks like a giant, all-seeing eyeball staring RIGHT AT ME, radiating power. It makes me want to look away. The awareness ribbon doesn't add much, and it's too generic for use in a logo. You want a logo to be ownable.
On the upside, it's well crafted, and the typestyles, shapes and colors all coordinate well.
My sense is that this project requires something small, light, and low-key, probably in black & white or shades of gray, which is soft, like their site (and mission), and evokes photography. The point is not GRAPHIC DESIGN (in caps on purpose) but the photographers' gifts to those losing someone to cancer. But without speaking to the client, I couldn't know.
Thanks again. Keep us posted.
—————
*Is your image simple? Apply the three-second test. Look at the image for three seconds and look away. What do you remember? Try it on a friend. Or have a friend try it on you.