Our nephew Matt approached me recently to ask if I'd help him design a card and other material for his new diesel-service business, to which I said yes, as long as you're not in a hurry, although I confess to fastracking it somewhat because, well, you know.
Backstory: Matt is the youngest of my younger brother Pete's three kids. He grew up learning from his mechanically inclined dad how to tear down and rebuild basically anything.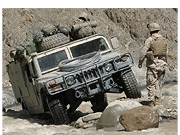 He enlisted in the Army at an early age and was discharged in 2008 after three tours in Iraq and Afghanistan, during which he serviced and maintained heavy vehicles like troop carriers, humvees, and such. He also returned with a fiance on his arm, the one, now his wife, completing her Ph.D in physical chemistry and who, in the Army, outranked him.
Creative brief: Matt's capitalizing on his Army-honed mechanical skills by starting a business to service vehicles of every kind, primarily big diesels. To circumvent the biggest startup costs, the idea is to build on the concept of onsite service, meaning he comes to you and does the work on your site. Contracting with a city to service, say, its bus fleet, is a goal.
His expectation is to grow, take on employees. For now, it's "have truck, will travel." He has a name — McWade's Onsite Diesel Service — and a stock web site, which we'll get to next, but first he needs a card. And to get a card, he needs a look.
One guy, a diesel mechanic. A common trade. How to thrive? With excellence, efficiency, integrity, the leadership he showed in the Army, where he ran the shop. What kind of card would such a guy carry? Something low-key. It's one point of contact, small, light, simple — a card, not a circus.
One night over dinner I show him a Porsche brochure and point out its clean, minimalist design. "Pure, timeless, goes with everything," I say, to which he replies, "Yeah, I like that." Hard to tell whether he's seeing the design or if he's swayed by the hot cars, so a week later I send him this . . .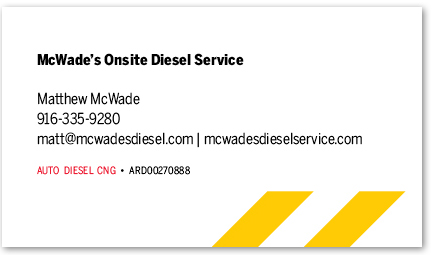 The type is set in Benton Sans Condensed Book and Black, aligned left. The yellow lines suggest the road without being obvious. It's a low-key look that can go anywhere and be transferred to anything. I like it. It's simple, it doesn't look graphic-arty; it respects Matt and his customer by not putting on a show.
Hmmmm, says Matt. "A little lower-key than you were expecting?" I ask. "Yes," he says, "How about something with diesel stacks?"
Which gives us . . .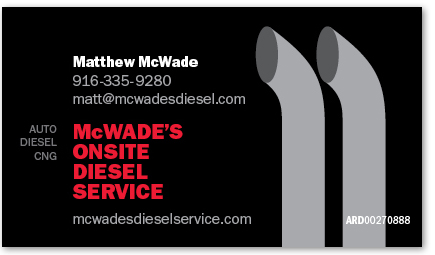 This card takes his idea seriously — two diesel stacks on black, type strongly set, this time in Franklin Gothic. The stacks could perhaps be photos, perhaps more abstractly rendered, or more detailed, but this is enough for the idea. But it's not right — it's too diesely, to sooty, too limiting. Where the yellow lines could serve as a logo, tall stacks really cannot, which makes transfer to other media difficult.
It's too old-school, too; the future is clean. Matt already services CNG, or compressed natural gas, vehicles; his dad drives an electric car. Vehicles, diesels included, are getting green and greener.
But he likes the type, he says. He probably likes that it's bigger, more complex, more muscular. So let's try a hybrid . . .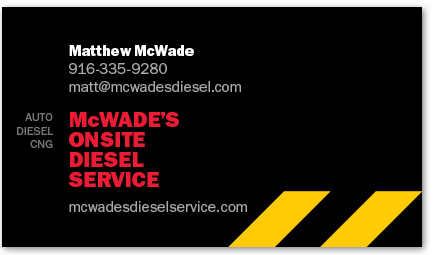 This card retains the type he likes, and the yellow lines are better, more transferable. But I'm not loving the layout — it's a mashup, too arranged, too designery; it leaves the upper-right side empty and inactive, the opposite of what negative space should be. The black will cause trouble in any case — it has to bleed, it's expensive to print well, it scuffs easily, even with tough laminate or aqueous coating, and it's visually aggressive.
So how about a logo? I'm not a fan of logos for a one-man business, if for no other reason than they're unnecessary. I mean, it's just Matt and his customer, one on one; a logo would be fluff, an annoying middleman. And I'm stereotyping, but I'd guess the buyer who knows his way around a diesel garage will be unimpressed by frilly artwork.
However. Matt's vision is down the road; he's looking years ahead, beginning, as he says, with the end in mind, where a logo may be necessary, so we'll have a look . . .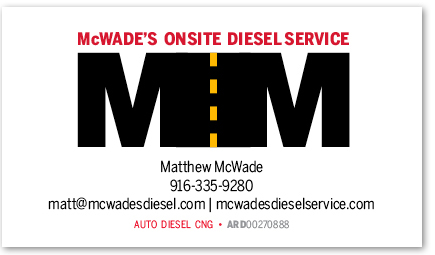 Double M continues the on-the-road theme, this time with Matt's initials. I like this image; it's compact, symmetrical, transferrable. Returns to low-key Benton Sans type, centered and static (let the road do the moving). What I don't like is that the extra ingredients convey no better what the double lines say simply and naturally.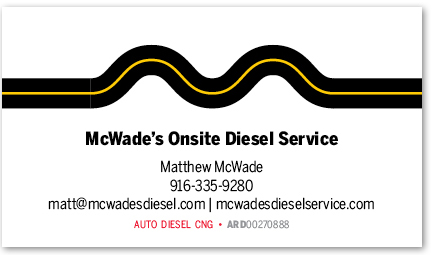 Obviously a road, the waves describe a faint M. I like it as a graphic; it shows a feminine side, it's friendly, more consumer-oriented. For a consumer-based business I would push this happier face. Hard to imagine, though, handing it to a hard-nosed diesel guy. "Awww, how cute!" I hear him saying (or thinking), dismissively. And, like the double M above it, it's trying too hard.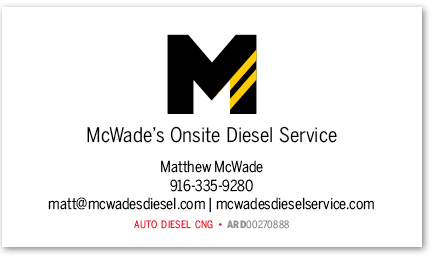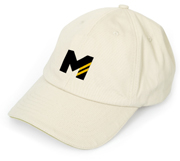 Single M with yellow lines could work. Low key, easy to relate to (everyone has initials), and this one feels more natural, less yoohoo! The centered layout is now uninteresting but can be fixed. It's an image easily transferred to Web, work shirts, all that.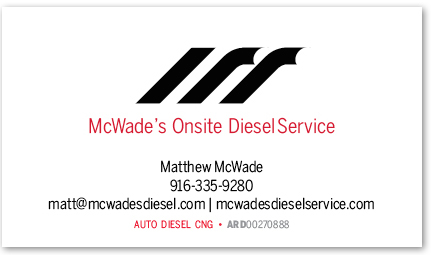 Here is a look only a designer could love — diesel stacks forming an abstract M in a classically black & white mark. Well, okay, a designer who's been smoking something. Unreadable and unattractive.
Let's go back. What's interesting is that we've stuck close to the original concept — the yellow lines — rather than provide true variations. There are two reasons for this, the first being our limited time, and the second is that I think it's the right concept — the lines make a widely recognized image that doesn't look designed yet represents Matt pretty well and is a strong graphic, easily transferred. And yellow, especially on black, is extremely visible (which is why it's used for caution and safety signs).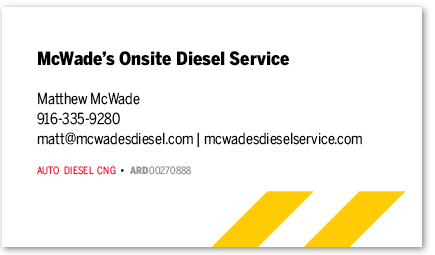 This version is identical to the first card but with a bigger name, and it moves us closer to the stronger type that Matt prefers. But we have one more option.
We've seen that the yellow lines are better against black, but how to achieve that without blackening the card or creating a big, visual blot? And how to integrate bigger type and the blockier layout? Let's change the face from Benton Sans to slab-serif Glypha — forever one of my favorites and the best-fitting typeface I've ever worked with — and set it in blocks similar to the diesel-stack card, but lighter, more central, which eliminates the unproductive negative space . . .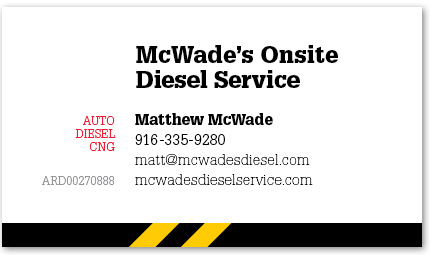 Then anchor the card with a thin strip of black, and place the lines inside. The result is clean, masculine, well balanced, a cut above the ordinary yet without looking designed. Three sizes and three weights of Glypha on rule-of-thirds alignment yields hierarchy, variety and visual interest. Color separates the elements that are different, and it's used sparingly. This is the finished card.
Before settling, we look at one variation . . .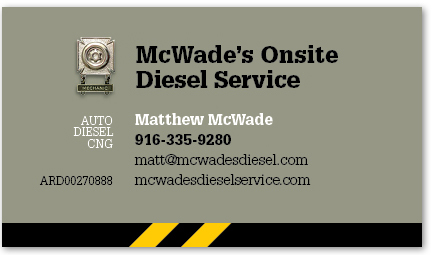 The addition of Army green, plus his mechanic's badge, ties Matt to his service career and would speak to a fairly large segment of today's market. But the small type is less readable, and remember begin with the end in mind? This, like the diesel stacks, is too limiting for the future of his business, although it would work as a second card.