What?! At the
Slavery Footprint
 web site you'll learn two things. First is the startling news that there are 27 million slaves in the world (an estimate, obviously), many of whom sustain the supply chains of everyday goods we own and use — the children, for example, who pick the cotton for our clothes and mine the raw materials from which our phones and computers are made. Second is that the web site, created by 
MUH-TAY-ZIK | HOF-FER
, is brilliantly conceived and designed, which easily explains its powerful reach. Simple icons and childlike colors respond to your touch, moving to and fro, in and out, teaching you about modern slavery and calculating your "footprint." I especially like it on the iPad, where I first saw it.It's a remarkable cause made more remarkable by its design. It's fresh thinking, not just repurposed print, and a persuasive use of new media. We'll be seeing more of this.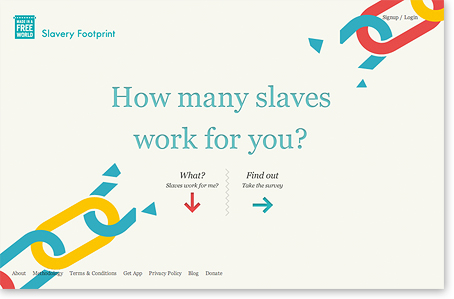 Also from MUH-TAY-ZIK | HOF-FER is the similarly impressive Ekso Bionics site, which is another tight marriage of design and story.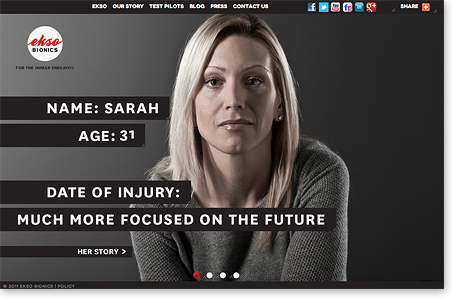 What's going on here?
Each of these sites illustrates the immense power of the creative story and makes it easy to see that design is fundamental in telling that story. No story, no design. No design, no story. I can't underscore this enough. Without story, design is decorating. Arranging colors and shapes looking for something "cool."
Here's the thing. For the designer, the story is where the money is. It's the value that you bring. In many cases, the client/boss/ committee hasn't fully articulated the story. This is normal. Your essential work is to get in there, collaborate, facilitate, bring it into the light, then bring your creative vision to bear on it.
Only once you have the story will you have something to design.
And only when the story is told will the client have something worth paying for.
Together you can move mountains.
It's not only that it's value added. It's a gift you have, and a responsibility — that of making visible what others can only think or imagine.
It's what sets you, a designer, apart from the masses of low-budget, crowd-sourced decorators.