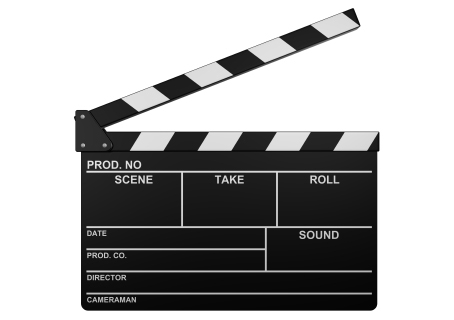 Who knew? When you're new to something, well, things are new. For example, why does the iconic clapperboard clap? It's not merely to label a new scene — no clap needed for that — but the clap makes it easy to synchronize audio track to visual track; you see one and hear the other at an exact moment. Beautifully low-tech in our high-tech world.
—————

As you know, we started making videos last year. First time ever.
This took us right back to school. Sort of. Video is a new medium for us, with motion and sound and storyboards, and although we've never done it before, we're not beginners, quite. We have a full career of art direction to call upon.
Besides our short instructional clips, we've made three "real" videos, all extracurricular. We're enjoying it a lot.
Here are eight things we've learned so far.
Have a story
This is the same thing that drives print. Design is funny. For all of its value, it doesn't exist on its own. It is the embodiment of something else. The colors and typefaces and layouts you choose have everything to do with the story you're telling. If you do a good job, its glory or interest or passion will be visible to others. If you don't, it won't. Story is everything.
Respect that you have the potential for people's undivided attention
An audience settling in to watch a film is a powerful thing, even if it's a six-minute trailer for church. People give attention to motion pictures that they do not give to anything else. TAKE THAT SERIOUSLY.
Normal is the goal
No field offers as much exciting gear as photography. But all of the cool stuff — the cameras and lights and gels and reflectors and all that — exist, basically, for one reason: to make what's onscreen look . . . normal.
It's a simple goal.
Light should be pleasant, not hot or cold or gray or colored or whatever. Shadows should be shadowy, like your eye sees them, not washed out, not pitch black, not muddy. Sound should be clear. Everything should feel natural, as though you're not there.
Normal is why you can trust your own eye.
People see fast
The world moves. Look around. Even if nothing's moving, your eyes move, so your view is constantly changing. Five scenes in three seconds? Viewers follow that. In real life, stillness is rare. Don't linger motionless unless the story requires it, and even then, keep something moving. Thank you, Ken Burns.
Use white space
That said, use downtime. Viewers need space to focus and process. Vary full with empty, busy with still, fast with slow.
You control the flow
Storytelling is like Tarzan swinging through the jungle — one vine to another, then another, then another, in sequence. It's linear. Unlike print or Web, where viewers can read ahead, go back, click around, you alone control the sequence. It's powerful.
Be invisible
Never let the viewer become aware of the camera. Don't pan. Instead, cut from here to there. If you pan, pan slowly. Zoom sparingly, if at all. Images should look natural, not grainy, not flat, not dim, not blurry. Motion should be smooth, not flickery, not distorted. Sound should be clear and pleasant, at the right volume, not echoey, not muffled, not thin, not boomy. Similar scenes should have similar light, and so on. Staying invisible is what f-stops and exposure controls and rolling-shutter correction are for.
Details matter
You're filming an interview. Necktie not straight, fingernails not clean, speech not clear, all are distractions. Keep backgrounds simple and desks clear. On film you see small things overlooked in real life. Pay attention.
That's it so far. There are, of course, exceptions to all of this, but these basics will apply, I'm willing to say, 90 percent of the time.
—————
Below is the gear we're using. Keep in mind that in every category are many alternatives that may be more useful for you; everything is better at some things than others. WE ARE NOT EXPERTS. This is the stuff that looked right to us at the time, and we can recommend it. Thank you, Clayton.
Camera:
Canon Vixia HF S10 consumer camcorder with a wide-angle lens adapter
and ultraviolet filter
. Excellent pictures in good light, weak in low light. Intuitive to use. No longer in production. Replaced by the Canon Vixia HF S20
.

Wish list:
Canon XF 100 (right). Brand-new professional model currently unavailable. A price-performance leader. Fifty megabits per second in 4:2:2 color space, unheard-of at this price. It means the camera captures more information and compresses it less. The more info, the more lifelike the footage and the more versatile the camera (low light, fast motion, subtle colors, etc.). Likely delayed by the crises in Japan.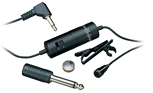 Microphones:
1) Audio Technica ATR-3350
wired lapel (lavalier) mic (right). At $19, this is AMAZING price-performance value for voice. We use this for our instructional vids.
2) Azden WMS-Pro
VHF wireless system. VHF (very-high frequency) is sensitive to cell phone interference; UHF (ultra-high frequency) avoids that but costs more. Good price performance for voice.

3) Zoom H4n
handheld recorder (right). Palm size. Built-in stereo. Excellent for music, voice, and field recording (crowd noise, railroad sounds, etc.). Near-studio quality. A four-track mixer right in the device. Outstanding price performance. We LOVE this little thing!
Studio lights:
To get nice, natural light where there isn't any, or to improve what's there, we've ordered FloLight MicroBeam

lights (right). Ours is the three-light kit — three LEDs, each on its own stand, equivalent to 1100 watts of regular light. Daylight 5600K temp, which is the most versatile. 30-degree beam (that's a spotlight, diffusible for a softer "spread"). Emit no heat, dimmable, and work with colored gels for warmer or cooler light. Can be battery operated if you're on location. Haven't arrived yet, but we expect good things.
Tripod:
The invisible-camera thing? A tripod is essential. Ours is a Giottos MTL9271B
. We got it because it can elevate the camera nearly 6-1/2 feet and remain steady. On top we put a Manfrotto 128RC
fluid video head, which is designed to move VERY smoothly. The combo weighs seven pounds — not a ton, but you wouldn't want to hike with it. So far we really like it.
For editing we use iMovie, which does a fantastic job for the little effort it takes, although it's buggy. Final Cut Pro X, due in June, is a must-have, and we'll convert to it. Apple's made it more powerful, more intuitive (more like iMovie), and cheaper, too.
And finally, we have two pair of Sennheiser PX 100 II
headphones, which are full and rich and light enough to wear all day. Essential for editing.
Stay tuned.
.