A bit of followup from Wednesday . . .
One popular suggestion was to make Mr. Jobs' photo slightly smaller, thereby adding white space around the title. Like this . . .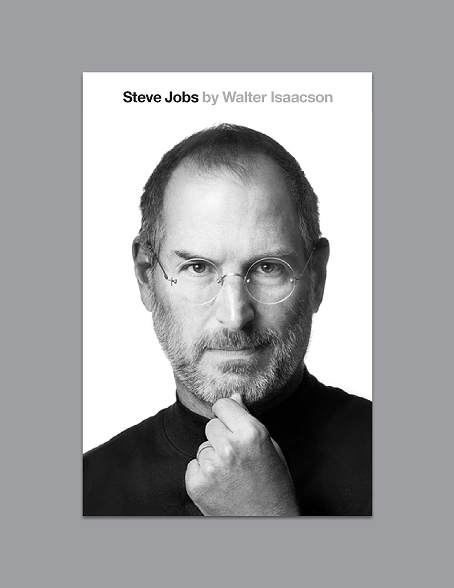 To my eye, this is a good, if modest, change. The added white space, which appears mostly on the sides, strengthens the small type and imparts that quiet, Apple Zen feel, which the original doesn't quite achieve. It also solves the severe cropping across his hand. In exchange, it sacrifices intensity. The result is an excellent cover with a different Gestalt. Which is better? Which will be better in a year?
The book as published . . .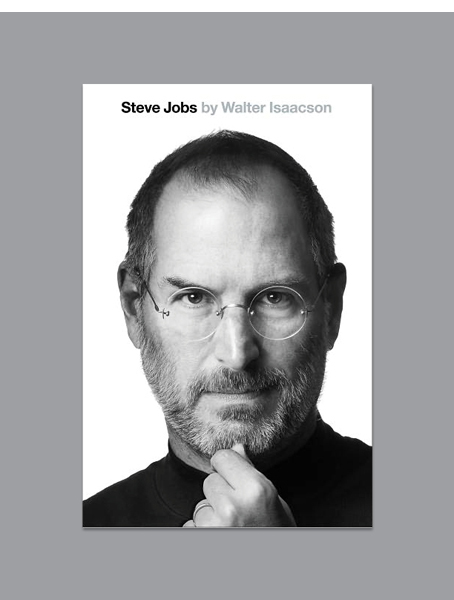 Other notes:
Apple's typeface is a variant of Myriad Pro, which is similar to Frutiger. The two are easily confused.
The use of Helvetica type for the title is valid. Apple uses Helvetica and Helvetica Neue on all of its mobile devices and parts of its Lion OS. My iPhone: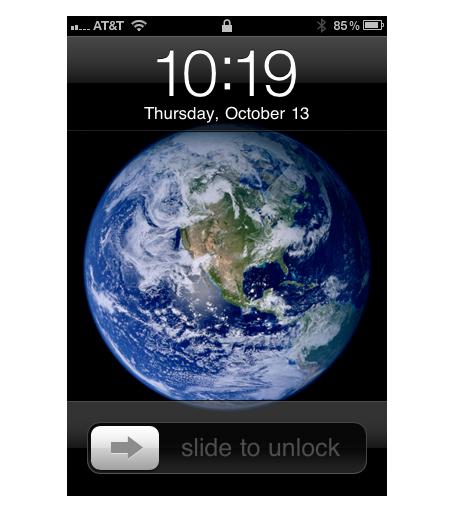 A favorite suggestion was to run the photo without a printed title. But, as Edward hinted, this would cause confusion. Not everyone is as familiar with Jobs as we are, and there are other Jobs books out there. An Amazon search turns up a wordless cover, and you're thinking, is this the right one? Remember, too, that a title confined to the spine works only for printed books, not ebooks. Similarly, while a blind emboss could be beautiful (and certainly Apple minimalist), it, too, would be invisible in e-formats.
Suggestions to make the byline smaller than the title, or of a different weight or gray value or case — or stacked or repositioned — open a heaping, five-pound can of typographic worms that we'll need a longer article to address. Sufficient for now is to say that simple is best, and the single-font, single-line setting is the simplest possible.
Finally, Diana is surely correct in saying that opinions are being colored by Mr. Jobs' recent passing. We in the design community, especially, feel the loss, so Mr. Isaacson
's book is serving, at least in the short term, as our memorial. This cover will look different to us a year from now.