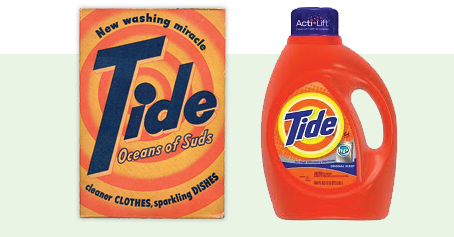 Orange gradients! Text on paths! Don't you need computers for those? You may have been born yesterday, but a lot of great stuff has been around since dirt was new, and how it looks now is because of how it looked then. So the question is, in what decade was this Tide design (on the left) on store shelves? Extra credit if you know its debut year. We'll answer next week.
(Those of you with the Before & After Master Collection will find the answer in issue 34, page 6.)
—————
May 23, 2011
The first really successful household detergent, Tide was invented in 1943 and came to market in 1946. This is its original box. Barely changed in nearly 60 years, Tide's whirlpool is a textbook study in design excellence. Orange gradients (Hey! Don't those require computers?) circle around a center (text on a path!), pulling your eye in and pushing it out at the same time, mimicking — with no animation at all — the mesmerizing action of that new washday miracle, the automatic washing machine. As fresh today as it was then, its look has been widely imitated. Photos courtesy of Proctor & Gamble.
P.S.: The responses below were posted before this answer was revealed.