Catching my eye recently at our local Ikea was the typestyle used throughout the store. You should recognize the face — you probably own it — although it's unusual to see it in print. A mashup of humanist, grotesque, and gothic classifications, it's not known for its fetching looks. Yet when conscientiously applied, as it is here, it makes a coherent, easy-to-read design program with a purposeful, no-frills air.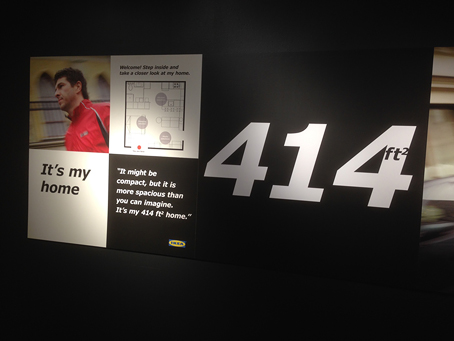 The typeface is Verdana, a web standard. It was designed specifically for the web, which means readability at small sizes and (in 1996!) very low resolution. Its clarity comes in part from its tall x-height (the height of the lowercase letters) and large, open counters (the spaces inside the characters). Technically a sans-serif, it nevertheless has serifs on the cap I and numeral 1, which keep the 1, I, and lowercase l from being confused.
Because long distance is functionally the same as small, Verdana can be read across the store, yet it works equally well up close, so you're free to design with high contrast of scale (above).
The ceiling sign below is less successful because the letterspacing is too tight for its viewing distance; this spacing would be used for closeup reading on a screen or printed page. I do like the spotlight.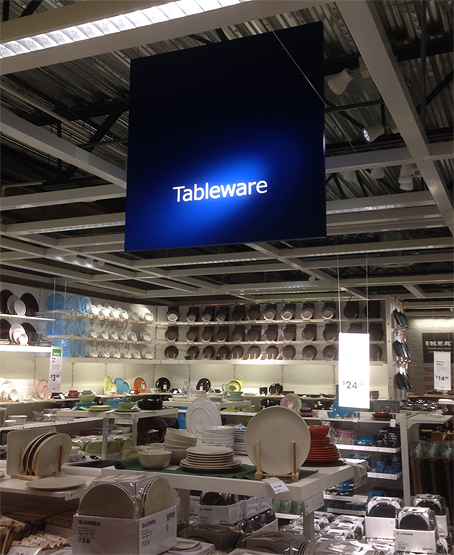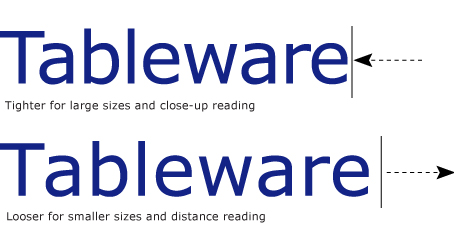 Verdana is one of the most ubiquitous typefaces on the web. The benefit, of course, to using it in print is that it's super easy to get your entire program looking consistent. Its serif counterpart is Georgia, which looks equally good on the web and in print.
—————
A heads-up: After this Friday, October 17, physical copies of our two videos, Design Essentials and Graphic Design Techniques, will no longer be available for general purchase.

Both videos in streaming form are a permanent part of lynda.com's online training library. Search for my name.