On my iPhone's Kindle app I'm reading Malcolm Gladwell's new book, David and Goliath: Underdogs, Misfits, and the Art of Battling Giants.

Early in the book, I come across an interesting bit that pertains to the way we set type.
Yale professor Shane Frederick has invented a three-question test called the Cognitive Reflection Test (CRT), which measures your ability, as Gladwell puts it, "to understand when something is more complex than it appears — to move past impulsive answers to deeper, analytic judgments."
Two of its three questions are . . .
1. A bat and a ball cost $1.10 in total. The bat costs $1.00 more than the ball. How much does the ball cost?
2. If it takes 5 machines 5 minutes to make 5 widgets, how long would it take 100 machines to make 100 widgets?
Most people answer incorrectly. Students at MIT scored only 2.18 out of 3. Harvard students 1.43. Students at less "brainy" colleges scored even lower.
How did you answer? The intuitive response is that the ball must cost 10 cents. But the question says the bat costs $1.00 more than the ball, which means the bat by itself would cost $1.10. So that can't be right. The correct answer is that the ball costs 5 cents.
As for the widgets, 100 machines can of course make 100 widgets just as fast as 5 machines can make 5 widgets — in 5 minutes.
But this is where things get interesting, and here I'll quote Gladwell:
"The CRT is really hard. But here's the strange thing. Do you know the easiest way to raise people's scores on the test? Make it just a little bit harder. The psychologists Adam Alter and Daniel Oppenheimer tried this a few years ago with a group of undergraduates at Princeton University. First they gave the CRT the normal way, and the students averaged 1.9 correct answers out of three. That's pretty good, though it is well short of the 2.18 that MIT students averaged. Then Alter and Oppenheimer printed out the test questions in a font that was really hard to read — a 10 percent gray, 10-point italics Myriad Pro font — so that it looked like this:

"The average score this time around? 2.45. Suddenly, the students were doing much better than their counterparts at MIT. That's strange, isn't it? Normally we think that we are better at solving problems when they are presented clearly and simply. But here the opposite happened. A 10 percent gray, 10-point italics Myriad Pro font makes reading really frustrating. You have to squint a little bit and maybe read the sentence twice, and you probably wonder halfway through who on earth thought it was a good idea to print out the test this way. Suddenly you have to work to read the question. Yet all that extra effort pays off. As Alter says, making the questions 'disfluent' causes people to 'think more deeply about whatever they come across. They'll use more resources on it. They'll process more deeply or think more carefully about what's going on. If they have to overcome a hurdle, they'll overcome it better when you force them to think a little harder.' Alter and Oppenheimer made the CRT more difficult. But that difficulty turned out to be desirable."
Disfluent. I like this word. Make reading harder, not easier. Slow the reader down. Make him focus, re-read, work. And thereby improve his cognition.
Counterintuitive? Yes, until you start thinking about it. Who among us hasn't seen an ugly design succeed and a beautiful one languish? And what explains the internet? It breaks every typesetting rule ever devised. It has impossibly long lines of small, low-res type, irregular spacing, terrible line breaks, misalignment everywhere, widows, false quote marks, misspellings, bad grammar, and, now that web type, a tool to make the internet better looking, is widely available, a lot of terrible typeface choices! And yet we read it and understand with hardly a second thought.
That form-follows-function thing? Better-looking is not always better performing.
To be fair, better-looking is usually better performing. As you've seen here many times, there are good-looking ways to slow a reader down. P A N O R A M I C  type is one. Reversed type and colored type are others. These can be very attractive, yet require effort to read. An unexpected typeface can dramatize a page while forcing the reader to focus. A connection that's not obvious. An unusual jump. I think of this like driving at night or in the rain. You're sharper when you have to work harder, and probably safer. When that's important, do it; don't sanitize your designs with generic "beauty."
I'm reading Mr. Gladwell's book on my iPhone, and my screen looks like this . . .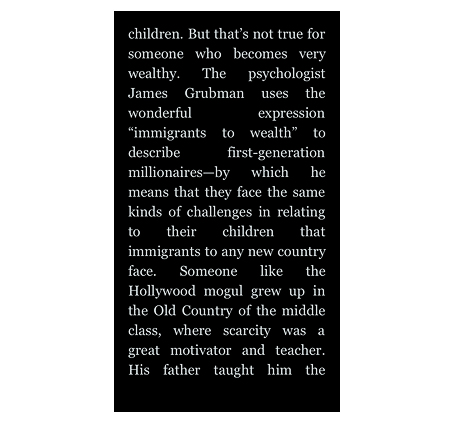 This is actual size, although here it looks smaller and less sharp than it does in my hand. The typeface is Georgia, same as you're reading now. And it's not attractive. Because when you justify short lines with fixed letterspacing and no hyphenation, you get huge, unsightly gaps between words. Page after page has my typesetting genes quivering.
But here's the surprise. Rather than plodding my way through, focused and intense, I'm flying through this book. I mean really fast, about four screens per minute. Read, flick, read, flick, read, flick. I'm not skimming, either; I'm getting it. What's happening is that the short lines — old-school newspaper and magazine width, which have always read fast — combined with word chunks created by the poor spacing, are zippy to read, like dashing across rocks on a pond. You move down the page as fast as across. It helps, too, that the pages are short, so there's a gratifying end every 15 seconds.
Here's the same screen aligned left without hyphens. The words are now evenly spaced, and the extra space is on the right . . .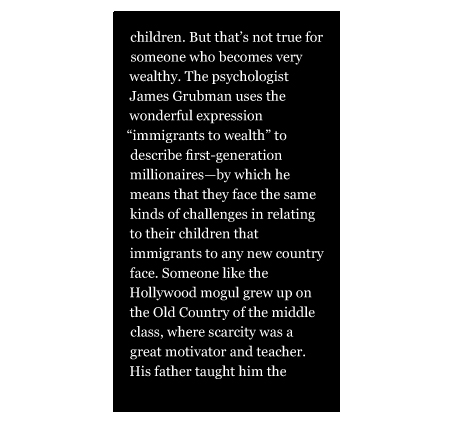 . . . aligned left with hyphens, which minimizes the extra . . .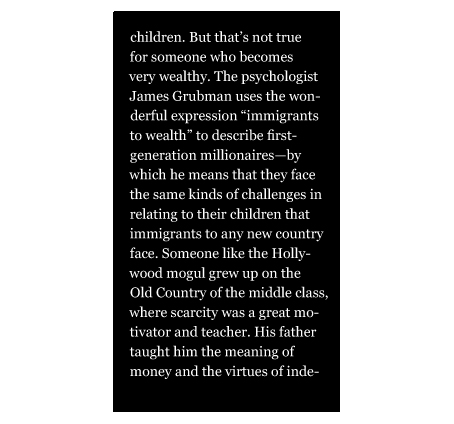 . . . and justified with hyphens and flexible word- and letterspacing, which distributes the extra space evenly throughout the text . . .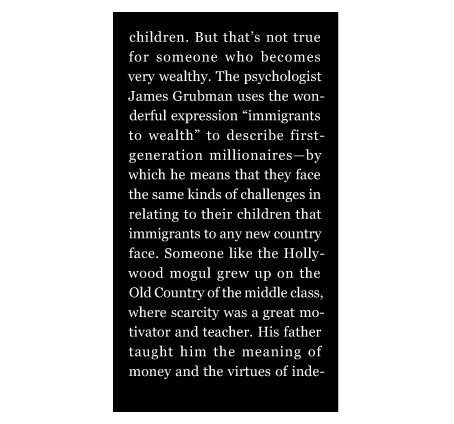 . . . which is how we'd set a paper book. If I could set my app to do this, I would. It's better-looking and would be more pleasant to read, but I can't say it would be faster or that my comprehension would be better. Compare them yourself and let me know how it is for you.
Anyway, the design mantra about setting type for "smoother reading" and "easier comprehension"? Might need to rethink that.