Dear readers: We've been busy lately converting our 1990's-era issues to PDF, which will restore our full library. This has given me the opportunity — a good excuse is more like it — to spend time re-reading our earlier work. Seventeen years ago this summer, Gaye and I took a vacation that was in many ways life-changing for me, and upon my return I enjoyed writing the following editorial. I reprint it for you here.
—————
I've been away from the office for a while, on vacation. On our anniversary, Gaye and I packed our van and headed out to see America — 7,029 miles' worth, in 30 days. I'd tell you about it — I'd love to tell you about it — about the Grand Canyon and Oklahoma and Gateway Arch and the straits of Mackinac and the Badlands and Black Hills and the buffalo herds and Yellowstone and Grand Teton — but we don't have five hours' worth of space here.
I did bring pictures, though.
Have you ever been to Mt. Rushmore? I hadn't. It's terrific. It looks just like its pictures, except heavy, as in tonnage, as in a million tons of granite looming overhead. That's awesome. But part of the experience — and this was captivating — came with the realization that once upon a time the great stone faces weren't there. This means a designer was involved. It's obvious if you think about it; it's just that I never had.
Before 1927, Mt. Rushmore was a natural mountain, extremely old, extremely hard, well situated, and blank. But where others who looked at it saw a big rock, sculptor Gutzon Borglum saw — imagine this — a blank page. It was to be his calling; he would spend the rest of his life blasting the titanic faces of four U.S. presidents out of ancient granite in South Dakota's beautiful Black Hills.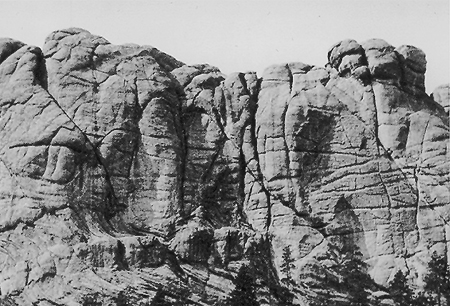 I've designed thousands of pages in my career and never have I gotten one right the first time. This used to weigh on me; the designs I admired always looked so easy, so smooth, so done. Other designers were gods. Me, I'd toil over an ordinary page, pushing and shoving, feeling clumsier and more anxious by the minute, one eye on the clock, wondering how they did it, just certain that it was easier for them.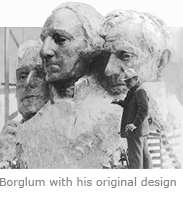 But it isn't. The designer may start with a vision, but the labor — the carving it into the rock — is a process of trial and error that slowly but inexorably bends to reality; like the format that works as a mockup but doesn't fit the copy.
It's like this for everyone. The Mt. Rushmore we know today — this American icon — was not Mr. Borglum's first design. Nor was it his second, nor even his third. For 14 years he adjusted his models for what the rock and his artistic eye would allow. He fussed and he cussed and he made tries that failed. His original vision had Jefferson on Washington's right, but he began carving against engineering advice that the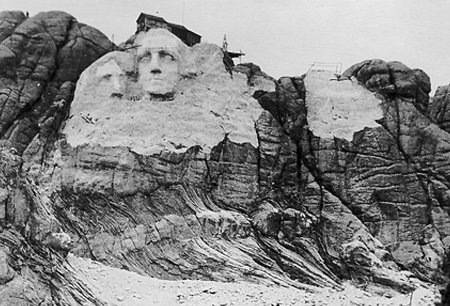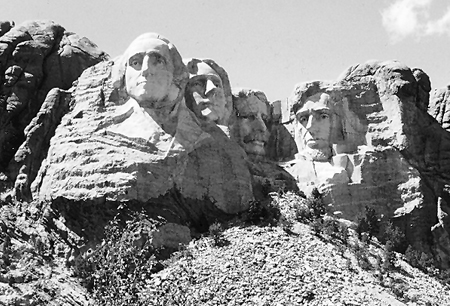 rock there would not hold. When his crew was stopped by the bad rock, he — aarrgh! — did the only thing possible: he set dynamite and blew his baby out of America's history books.
That's how it goes. On the mountain, on the computer, it's all the same. The greats are the ones who don't give up.