.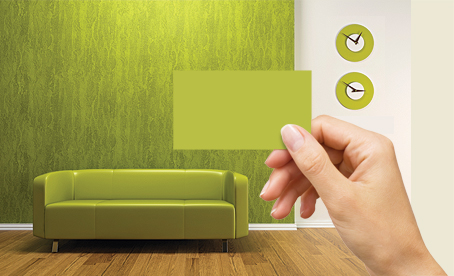 The trouble with color matching
Christiane writes: "I have a client who's choosing the colors for her business. I'm currently designing a business card for her based on the paint colors she will use for her studio. I got the paint swatch for a green, and I'm trying to find a similar CMYK color in my Pantone "Solid to Process Guide Coated" swatch book. It's been difficult, and so I was wondering if that's the way to go or if there's another technique out there."
————-
Hi Christiane,
As with most things graphical, there's a short answer and a long answer. The short answer: Pantone's Solid-to-Process guide (now called Color Bridge) will give you the closest CMYK to a given Pantone solid. But that represents a small fraction of the millions of possible CMYK mixes. Rogondino's Process Color Manual will give you 24,000 printed CMYK swatches, which will get you in the ballpark, but it's still relatively few.
But here's the thing to know: You don't need a perfect match. Even if you could roll her wall paint right onto her business card, they wouldn't look the same.
There are several reasons why. One, we perceive big color (the wall) differently from small color (the card). Two, light falls unevenly. Look around your room and you'll see direct light here, indirect there, and different intensities and colors (incandescent, fluorescent, daylight). Three, nearby colors affect perception; green next to blue looks yellower than green next to yellow. Also, colors get flavored by colored light reflected from floors, ceiling, and so on. The lighter the color, the more it will be flavored by other colors. And, of course, green on your printed material (reflected light) looks much different from green on your computer screen (projected light).
Your goal is to get the perceived color as close as you can. Green next to black, for example, must be darker than green next to white in order to look the same. Green in a dark hall should be lighter than green in a light room, in order to look the same. And so on.
But now I'm inching toward that long answer.
In your favor is that green is the most diverse color in nature. There are more variations of green, by far, than of any other color, so you have a big palette to work with.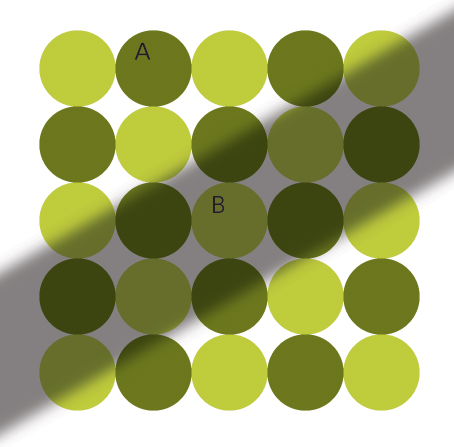 (Above) Which circle is darker, A or B? You fuss getting your two greens just so, then a shadow crosses the wall. What happens? Your mind compensates for the shifting light, so circle B still appears lighter than circle A. Your swatch book, however, will tell you that color B is both darker and grayer (inset).

The takeaway: Get your colors as close as you can, but don't sweat perfect. Close enough really is good enough.
Final note. If you're working with a swatch — like a Pantone color — stick with it, because it gives you a standard starting point. Just don't expect someone viewing it at the mall to see the same color as another viewing it online or outdoors or in a dim restaurant. They will all see something different.
.
.