In response to our post, A little more Zen, Ed remarked: "Wow, all of this commentary over two or three elements in a 'design.' Is this [the Jobs' book cover] even design? Seems a little too basic . . . I'd probably even be a bit hesitant in billing somebody for this."
Dear readers, that is the biggest misconception EVER.
Whose logo is this? . . .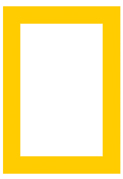 How long would it take to draw? Let's say 10 seconds in InDesign to make the rectangle and 10 minutes to get the width just right. How much do you bill per hour? To make it easy, let's say $90. By that reckoning, this is a $15 logo.
Not only that, but the yellow border is not the designer's creation; it's been the trademark of the client, National Geographic magazine, for a century.
Yet when he "designed" this rectangle in 2002, Tom Geismar (Chermayeff & Geismar) created one of the clearest, most identifiable, most portable images on the planet, meaning one that works beautifully in every venue regardless of size, resolution, or surrounding clutter.

That's design.
How powerfully simple can you make your next logo?