After reading last week's post about British Airways and how the right design might not be right, Leslie writes:
"Hi, I'm just finishing up a project (for the second time), and your post made me think about it. I was offended at first, then perplexed, then maybe the 'I guess I can be wrong when everything I did was right' scenario rang in my ears! Funny to see your article about the exact same thing. In my case, I am designing a book jacket for a young-adult paranormal fiction book.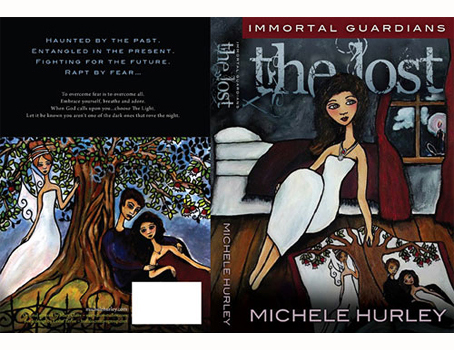 "The first design [above] uses an illustration. (It was my suggestion to hire this illustrator, because I love her style!) I thought it would give the characters a distinct, otherworldly feel, and not tie them to recognizable 'people.' Instead of having this effect, I think to a younger audience the illustrations just come off as childlike, and they are not connecting. And they are not sexy enough. And in this case, I suppose, due to the nature of the book, you have to acknowledge your audience's tastes before going full steam ahead.

"I have already designed her Web site, web banner ads, and book trailer using the illustration style. But now, it looks like everything may have to change! And, it will probably be better for sales . . . and that is the point for an author trying to get her book noticed!
"Any thoughts you have would be appreciated. Sometimes I am still doubting what is working better."
Thanks so much,
Leslie Taylor
—————
To which I reply: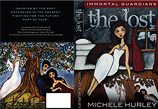 I like the feel of your first cover. Great illustrations, I agree. I'd have guessed the audience to be 10-14-year-old girls, but I get no sense that it's about paranormal phenomena or anything frightening. Except for the title typeface, it looks pleasant, engaging, inviting. Maybe a romance, or an adventure, or both (romance is automatically both). But that's looking, not reading. When I read — lost, haunted, entangled, fear, etc. — the words don't fit the images.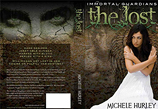 Cover two is darker, kinda scary, heavily textured, ghostly apparitions, all that, except for the girl, who looks posed and unconvincing. She's too neat. Dark desires, insatiable hunger, marked with blood, sealed with a kiss — she doesn't embody any of these; she's just kinda standing there having her picture taken. Pretty but not sexy, which requires heat. It doesn't help that she looks cold. I'd say its audience is older, maybe 15-19, and may get some guys — except the girl messes it up, at least for me. Too ordinary, like Megan who sits across the aisle in math class.
That said, I may be looking at this through too-adult eyes. For a 16-year-old girl, perhaps this image has an appropriate safeness — more the tingle of danger, not truly dark, not truly haunting, not overtly sexy — to be just right. Maybe Megan the classmate is the one she can relate to!
—————
Dexter, our senior designer, adds some deconstructive analysis. Says he, "The book, whether online or on a store shelf, will be presented only with the front cover. That's what I need to look at: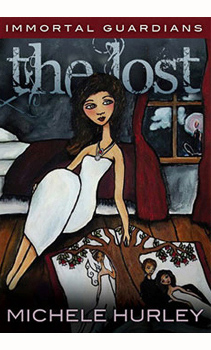 "The dark, desaturated colors definitely have negative connotations, which, in this case, are what you want. But her light skin tone and her friendly facial features counteract that.

"Would turning the illustration black & white make the scene darker?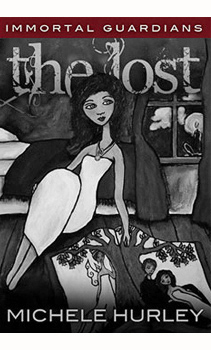 "No, because the problem is not just color. Lines and shapes have meaning. Curves and circles are soft, friendly, approachable — and this cover has quite a few: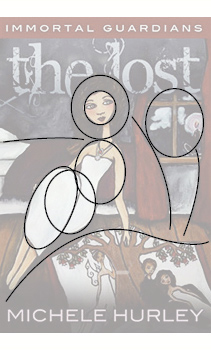 "Second book, isolating the front cover helps; it brings the ghostly character more present — same size, same eye level, it's easier to see their interaction. But she still looks impassive (and chilly!) . . .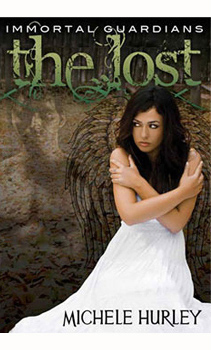 "Even in black & white, I sense no darkness, no hunger, no blood . . .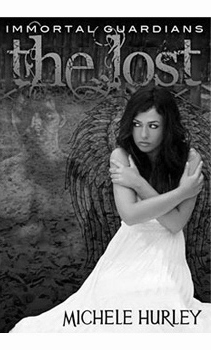 "The white dress isn't helping. It's too clean, too virginal, too much. What if we take the descriptive copy from the back . . .
Dark desires
Insatiable hunger
Marked with blood
Sealed with a kiss
Will Megan get lost in her desire or fulfill her destiny?
. . . and move it to the front (roughly done below), which minimizes the dress and helps me make some sense of the girl and the background images?"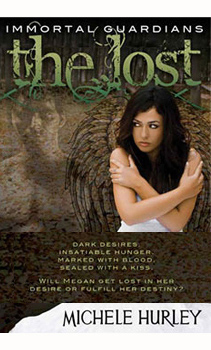 —————