A while back, a friend forwarded an email from his friend Mike Carroll, a TV news-camera guy, who'd just designed the cover of his own new book, Breaking Into TV News,
and was asking my friend for an opinion. Mike's a veteran field reporter, cameraman, video editor, and this is what he'd designed: (Click for a larger image.)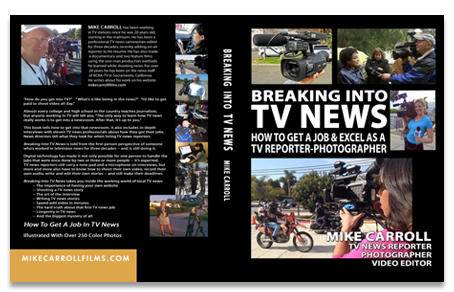 My friend thought that I probably wouldn't like it, and I understand why — aesthetically, it breaks every rule. But that wasn't my response. I wrote back, "His book looks interesting. The cover's messy, but I found myself reading the whole thing. It has a certain hurry-gritty-production kind of energy to it, which suits its topic. It couldn't be more direct — "How to get a job and excel as a TV reporter-photographer." If that's the job I want, I'm all over this book.
"Good typography would improve it. I'd suggest experimenting with a background color besides black, but the black may be playing a key role. Similarly, my eye doesn't like the patchwork layout, but it, too, may be contributing to the grittiness. There are too many, too-small photos, yet in sum they present a view of real-world TV production into which I can project myself. I'd be circumspect; it would be easy to sanitize the life right out of this. I read the whole thing. Something's right."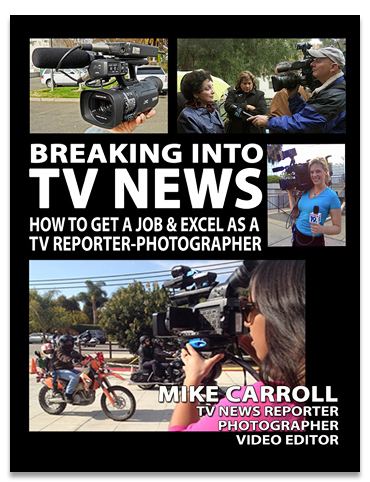 Which is to say, it could go to press as is. But it's a face only the writer could love. So the question is, can it be simplified and made more attractive using the same photos and words, while retaining its harried, behind-the-camera urgency?
Here's a try. Below is a 30-minute makeover. One typeface (Gotham Ultra), narrowed design area, edges flush, material centered in a linear sequence — head, subhead, photo, byline, etc., right down the page, black, white, red — forceful colors.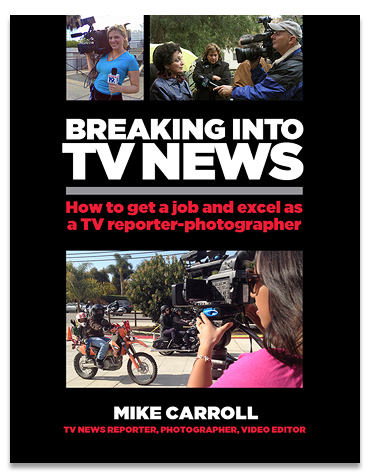 I sent the makeover to Mike, who was appreciative but underwhelmed. He replied, "I feel it looks too much like a how-to book or textbook. The red lettering is a bit overpowering, and I think that the lettering being in bold blocks is too strong. I feel the subtitle needs caps as opposed to lowercase. Caps give power and authority. The book is geared for students, but I don't want them to regard it as a textbook or a schoolbook. I want them to want to read it, so they can find out how to fulfill their dreams of working in TV and making money at it.
"That said, I don't know anything about designing books. Literally, when I'm doing this, I take the books on my shelf that I respond to, scan them, then use the scans as Photoshop backgrounds and construct my covers from there."
In return, he sent me this revision: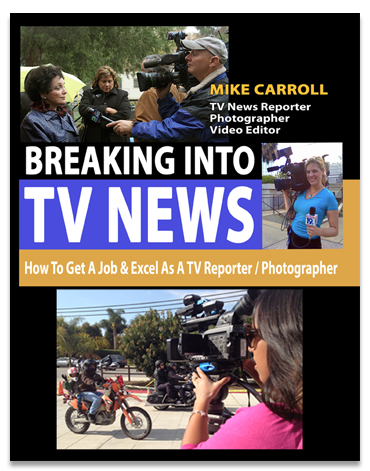 It's attention-getting in a tabloidy kind of way, but I like this one less than his original. It's been prettified without becoming pretty. The blue and gold soften a message that was better with an edge; the appeal of the original was its workaday, get-er-done earthiness — news is breaking, grab your gear! Now, it's a page of colored blocks.
Designing with blocks is a way to get big blasts of color onto a page easily, but it's almost always a mistake, the problem being that the blocks, not the words or pix, become the primary visual elements but have nothing inherent to say and so siphon off attention. Also, blocks demand structure but here have very little.
I'd also say that by reducing the size of his subtitle — "How to get a job and excel . . ." — he's weakened the key element, the part to which I, the reader, can relate, and the reason I'd buy the book: I want a job in TV news. His original cover appealed directly to this desire in a way that allowed me to visualize myself on the scene working.
I conveyed my crit to him, along with another makeover, which adds structure to his basic idea and zones in on the title: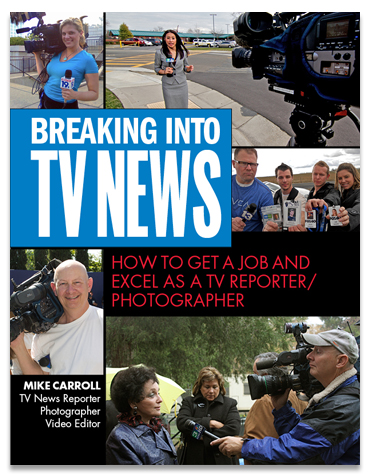 . . . and after mulling it for a day, he wrote back . . .
"I think I've infected you! I thought my first cover was busy! But I do think it is nice.
"Reading over your comments struck home. You're a professional designer. That made me think again. In the designing and redesigning, I lost sight of having the How To Get A Job & Excel As a TV News Reporter/Photographer on two lines as opposed to one. Only after seeing it in your note did I realize it was too small, so it's been corrected. Also, my wife agreed about losing the orange swash across the front. And she felt the cover was too dark, so I've changed it to gray; I don't want the black to be oppressive.
"I'm indebted to you for pointing out the issues with the former "final" version. I see what you are saying and I'm responding to it — by listening and modifying!"
And attached was another revision: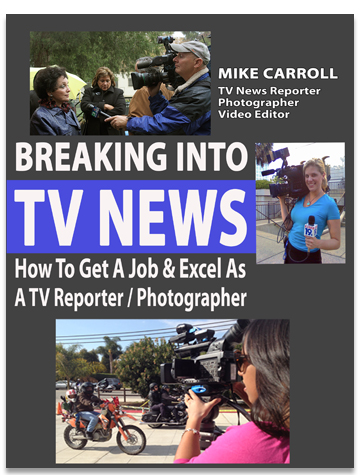 To which I replied, "If you go with gray, my only recommendation is to print it with solid ink, like Pantone, which means a fifth color on the press. This will avoid the dirtiness of a large, flat halftone screen."
We exchanged a few more iterations before he sent me another version similar to my original makeover but gray, saying, "After trying so many things, my mind is now mush. Looking at all of them, I'm thinking now of reverting to my first version, though with the gray background and the camcorder prominent. I want students — high-school and college — to feel that they can do this with their own gear and not to be intimidated by big Sony SDCAM cameras. It's to a point where it's a flip of a coin."
And in the end he went this this, which is available in paperback and Kindle on Amazon
. . .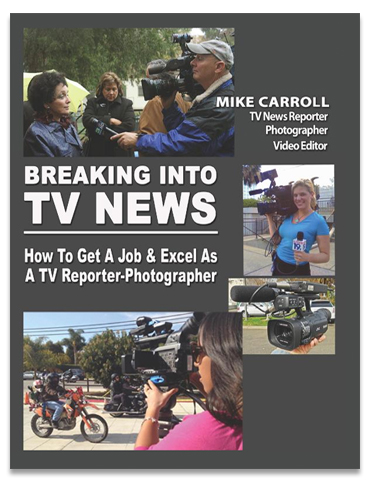 I enjoyed Mike's gutsiness and commitment to his book. I closed with, "I'd tell my readers that these are all the same design. That's why a coin flip would work. My original 'textbooky' one is only slightly different, not enough to qualify as a different concept.
"Whatever your design, key is to be intentional. No arbitrary font choices, colors, funny shapes, backgrounds and other hoohoo. You should be able to justify every decision — why this typeface? why that rectangle? why that color? As with writing, every element must pull its weight, and if it doesn't, deep-six it.
"Similarly, everything in design is context-sensitive. Blue that works here won't work there. Your original cover drew me in, not because it was beautiful (it wasn't), but because it intrigued. It was the combination of words and pictures and the homemade, no-frills look. None of the others have improved on that."
Here, readers, is a case where the author is closer to his subject than I am. He's a jack of all trades, accustomed to shooting, writing, editing, and designing "naked," meaning on his own, so he has a strong feel for his art, and skill in expressing it. He's working on instinct, and as he's learned from his years in the field, there is no one way to handle a story. "Key," he said, "is not being married to an idea simply because it's your idea. Stay open."
What's your take on this? Would a professional design be worth its cost? It could be more expensive than an independent author could afford, and how could he know it'd be right? We've seen before that a client-designed piece can capture the soul of its subject better than a designer's that follows the rules of page layout.
Mike's now working on his second book and will bring to it the design lessons learned on this one. My advice to Mike, given his independent modus operandi, would be to find a designer with whom he could sit at the computer and together work out the design. From the beginning. Together. Back and forth. Lots of conversation.