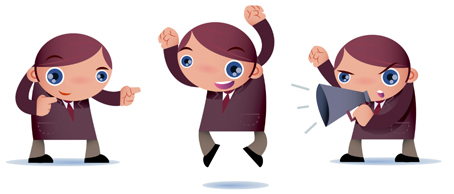 A reader writes, "I work as a designer at a small print/marketing firm and am presently dealing with a client who is beginning to rely much less on our design expertise when it comes to executing their work. Our qualified suggestions are being routinely discarded in favor of their own, uneducated opinions.
"While client input is undeniably necessary when it comes to spelling out initial goals, being micromanaged throughout the design process, especially when forcing me to design against my better judgment, I feel greatly devalues my worth as a designer.
"Unfortunately, I have little to no influence, since I have no direct contact with the client.
"My question is, how to handle this conundrum?"
———–
I hear you! So do a million other designers!
Your case is impossible to diagnose from a distance. But meddling, fiddling, second-guessing clients/bosses/committees are a fact of life.
The issue, though, has many cross-currents, one of which is that . . .
People enjoy design. Design is fun, and not only for us. Many non-designers have an affinity for it. Before & After subscribers include engineers, producers, marketers, writers, singers, scrapbookers, photographers, craftspeople, modelers, decorators, painters, and more. Design touches many. I'll say that design belongs to many. Art runs deep.
Design looks easier than it is. This still fakes me out, and I've been at it 40 years. It looks easy, I think, because seeing is so easy. Similarly, writing looks easy because, well, everyone writes! So design gets underestimated, especially the communication aspect of it.
Design means more to people than they realize. We are visual creatures. We want the good-looking sunglasses, not those other sunglasses. We want the good-looking car, not that other car. Apple spends untold dollars getting the edge one millimeter thinner and thereby making it perfect. How things look has a huge effect, also underestimated, on how they do.
Not much can be done about the meddler who's secretly unhappy, anxious, or afraid, other than your best to give him what he wants, and perhaps needs, if for no other reason than to be merciful — or, disengage from the job. Not much can be done about the closet designer who actually wants to design the job herself! Do your best to satisfy her vision (i.e., give her what she wants), or disengage. If you encounter a client who's just plain evil, run!
While it's poor interpersonal practice, not all meddling is unfounded. If the design goals have not been well articulated (more on this in a moment), you'll get meddling. If you, the designer, do not understand the goals, you'll get meddling. If the client does not trust your eye, you'll get meddling (or fired). If you appear condescending ("our qualified suggestions" vs. "their uneducated opinions"), you'll get meddling (or fired). And so on.
So step one: Be sure you know what you're doing. This is a big deal. Are you sure your "qualified suggestions" are correct? Are you sure your "judgment" is better? Design is not math, you know; there's always more than one answer. Can you articulate yours?
(Try this: In the privacy of your office, make the strongest argument you can against your own design. Be serious, not wishful, facetious or trivial. If it's convincing, you're not done.)
Along those lines, do you have the skill to make work what the client wants? Say the client likes your design, except that he'd prefer this other (kooky) typeface or that other (ugly) color, for whatever reason. Can you find a way to make his choices look good? The better you are at this, the less you'll be bothered by left-field requests.
Accept that others see differently from you. That diamond shape with the little curve may look to you like the perfect mark, but he sees a playing card in it, and she sees up-and-down elevator buttons. These associations are valid (although not always germane) and can often be valid critiques.
The best way to avoid the hassles and get everyone on the same page is to start with a creative brief that articulates, in writing, every design goal. Work this out together with the client until everyone is satisfied, both of you sign off on it, then design to that. It gives both of you a clear goal and keeps the conversation at a high level — i.e., does this look/layout/whatever satisfy the goal?
Above all, stay humble. Accept that you often don't know, you can't always (or even often) see the best way, and you may not be inspired. But you have good eyes, good hands, a good mind. Show them your best work and articulate it clearly. Receive the voices and views of others, and use them to make you a better, broader, designer.
Illustration courtesy of 

iStockphoto