A copy of Glamour magazine landed in our mailbox recently, and after checking out Keira, I went right to the type. Looking at magazines is how I learned typography, so this was as natural as breathing.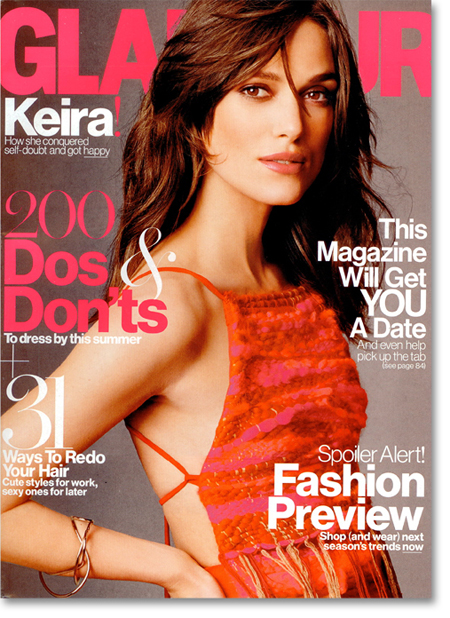 What caught my eye was this . . .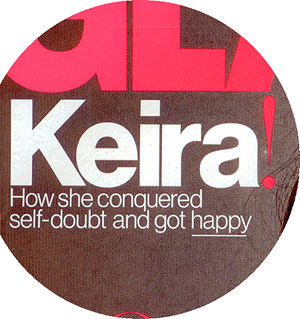 . . . the word Keira in upper- and lowercase Helvetica-ish bold, spaced as tightly as we did it in the 70s. Tight is the best way set Helvetica, and, as with all typefaces, some letter combinations look better than others. Keira is especially nice — it's short, with angles, curves, and verticals in a sequence that fits snugly without leaving gaps. The arm of the "r" has been shortened to accommodate the "a".
When I say it's tightly spaced, compare it to the default spacing of Helvetica Bold . . .

. . . which is how you'd see it at text size, where the wide spacing is needed to create separation (tiny details would run together otherwise). At headline size, however, the letters stand on their own, so to restore interaction, tighten the space. Global spacing is called tracking, after which you manually kern each letter pair for the best fit. Set as tightly as Keira (below) is a design decision, not a readability issue.

Nice as that is, all is not well in Spacingville. The small Helvetica Light deckheads are too tight, as though the designer merely reduced headline-size spacing without relaxing the tracking. The congested result: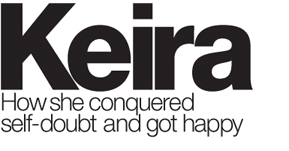 The deck should look more like this. To match the vibe of the extra-tight Keira setting, the spacing should be slightly tighter than this, but screen resolution won't allow me to adjust that fine (for that you need print!) . . .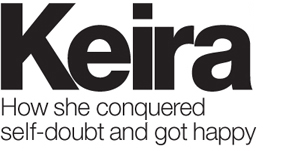 Also catching my eye was the light, pink, Didot-ish bang, or exclamation point . . .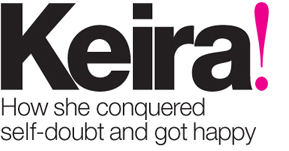 It's an unusual but fun juxtaposition of styles. Would you have thought to do it? Maybe, if you were working in Glamour's two typefaces — a Geometric very similar to Helvetica, and a Modern similar to Didot — in the pink-and-white, mix-and-match style that we see on this cover. The thing to note is that the type is pure: no shadows, outlines, gradients, no parade of colors, no tricks of any kind. The designer relies on the design of the type itself for the exuberant results. I'm a big fan of this.
It's far from the best cover I've ever seen. What I like, though, is the Keira setting, the simplicity of two colors (pink and white), and the mix-and-match technique, all of which can be transferred — you can do it better! — to other projects.